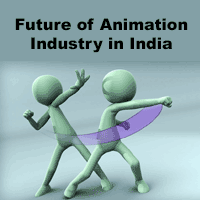 welcome
Animation Course
India today has become one of the considerable destinations when it comes to outsourcing the animation related work. However, it is also a fact a lot of effort is now required to make Indian animation industry get accepted unequivocally in its own country. But the trend is now changing; these days increasing section of the audience from all the age groups are showing their interest in the Indian Animation World. One recent example of this is the "The Adventures of Tintin", a 3D film it was whole-heartedly accepted by the people not only in India but also abroad. This work of giving life to the character got the recognition, and this is the reason why people in large number are going for the Animation Course these days.
According to the experts, to give a bright future to the Animation industry of India, it is very important that the aspiring people should be given formal training in this. India is rich in real endowment, only it need not be foster properly and opportunely a large number of institutes offering animation course is there.

A creative and lucrative industry
Animation undoubtedly is all about showing your creativity. The amount of massive labor that goes behind these breathtaking creations is quite overwhelming. If you have aspiration, skills, expertise and the experience this field has a vivid palate of higher payments, to offer. An animation is not only limited to two or three sectors, in fact, but there are also a large number of sectors where the animation work actually sells like a hot cake, and some of these are advertising, E-business, Films, Theatre, Entertainment industry etc. It is the name and fame which animators get u this field what is attracting young people to do animation course.
A glance of India Animation Industry
Although not very famous India has the years old relation with the animation films, the first was a short animation film, which was called the 'Ek Anek Aur Ekta'. It was made in the year 1974, this first and foremost film was produced by Doordarshan, after this in the year 1986, the first Indian animation series, Ghayab Aaya was aired.
Advancements in the Animation industry and coming up of animation course also lead to the advanced level of Indian Animated industry, and thus recently came a 3d animated film Roadside Romeo, which was the joint endeavor of Yashraj and the Indian division of Walt  Disney, this got a lot of appreciation for the Indian audience. After this many, a large number of producers joined the bandwagon, and we can see awhile a lot of animation work for India, in which special attention is given to the Indian mythology and the culture.

Opportunities in this sector
The Animation Industry is indubitably is as huge as an ocean. As the days will sway, the need of a gloom of the fantasy world will certainly be felt more, and the span of generating an alcove for oneself in this sector will be brighter as well.
Like a mountaineer keeps his focus on each and every step to reach the destination, similarly, we can reach the success only after taking a careful decision, and one such important decision is the choice of animation course. Indian Animation industry is pretty young. With unsullied minds swarming with ideas and with loads of dedication and initiative we can undeniably come out successful. So let's do it……
Contact Us