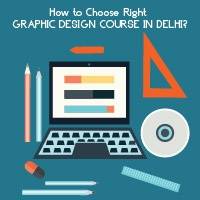 welcome
Once you are sure that you want to be a graphic designer the next big question is to filter out the perfect or at least the best graphic design course out of plenty of graphic design courses available with numerous institutes all across the atlas. Graphic designing revolves around understanding the client's or a company's requirement followed by the right kind of designing in the form of Brochure, Catalogue, Annual Books, Leafs, Pamphlets and PoP's, Exhibition design, Event management design, Posters, digital design and UI for websites.
These days people want to specialize in more than just one course and hence they club their graphic design courses in India with other courses like web designing or integrating with other design elements like product photography,  etc. so as to add up to their skills and expertise. There are many important things that one should consider before enrolling for a graphic design course. A few of these important considerations are mentioned below.

Consider the course type offered
TGC is a leading institute offering various Graphic design courses, available in two different forms. The two most common are a normal track or regular courses. They can take up to a period of 6 months for completion. However, some institutes offer correspondence courses, weekend courses, or even fast track courses for working people or people who are studying another course along with a graphic designing course. You can choose one depending on your comfort.

Certification
This is the foremost and must be asked from any institute you visit to inquire about graphic design courses in India. TGC in its autonomous diploma provides dual certifications one from TGC and other as Adobe certified associate (ACA) certification. TGC is also affiliated to the reputed universities and hence can be entrusted to provide you with an authentic certificate.

Consider your interest
When you go for enquiring about graphic design courses at TGC ask about the different courses that institute provides to enhance your skill set. Like multimedia interests you, then you can go for a diploma in both graphic designing course as well as web designing course. By doing so, you would not only enhance your skills but will also add value to your profile. Another advantage would be that you will gain expertise both as a graphic as well as a web designer.

Placement
Check whether the institute you are enrolled in organize any placement events or career fairs. Do not forget to query about their past record in terms of getting their students placed in good companies. Meet with TGC placement coordinator for recent placements and students work.

Fee
Compare the fee structure of different institutes with TGC, graphic design courses at TGC is most comprehensive and offered on the most affordable course fee.
Last word for Graphic design aspirants visiting TGC
Ask TGC about the courses, fees, faculty, timings, etc. and then compare them all on these criterions. Choose the one that appeals you the most so as to get the genuine value for your money.
TGC India is a well-reputed institute based in south Delhi and offers graphic design courses. For further details, you can visit their websitehttp://www.tgcindia.com/.
Contact Us