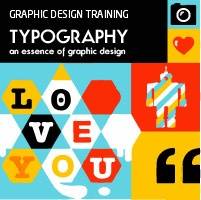 welcome
In the world of Graphic design, typography holds a very significant place. In its simplest form, it means how the content on your design either web or graphic appears. Typography is the second thing that attracts the users or visitors of your website after your design, in fact, it is an emblem in a design in such a way that it becomes an integral pillar of design. A reader reads the content present on your web page design or graphic design to know about your company, business, brand, etc. Therefore, in order to make your design more readable and to lure more visitors, you must consider using typography effectively. Type Anatomy and class of type are the two major elements of typography and besides, these there are other things as well that can be blended to get the desired results.
Typography Enhances the Looks of Graphic or Web Design:
Typography has the power to enhance the look and feel of your Design. It boosts up the appeal of your interface layout and hence you must keep the following pointers in your mind while working on the typography. It is inevitable for students learn typography during their period of graphic design training.
Pay Attention to the Content
A lot of webs and graphic designers while preparing the content for layouts to forget about the quality of content and only focus on decorating the text. This is a big turn off for users as they might stop at your website but when it fails to cater their needs they will move on in the search of better results. So, you should remove unwanted spacing and make sure the appearance is nice. Also, you should not just end up using too much of colors, or effects as it may spoil the graphic design layout structure. A good graphic design training institute must teach students how they can let the audience pay attention to the content in an organized way.
Use a Combination of Macro & Micro Typography
Micro Typography means spacing present between letters and readability. In contrast to this, macro means the overall artistic appeal of the content. To make sure that yours is a standard design you should pay heed to both the types. Typography, therefore, is very important while doing a graphic design training.
Use hierarchical Model for Font
Hierarchy specifies the beginning and end of the content on your website or print layout and makes sure that it does not spoil the graphic design. It helps in keeping the content well organized. You can do this by using bold and larger fonts for headlines or taglines while using a smaller one for the paragraphs. Things like spacing and alignment can help bring about the clarity of your web pages.
Using the font matrix
Make sure that you used safe fonts instead of using too styled ones. To enhance the graphic design of your layout picks colors in contrast to the background of your website. This increases the readability and the safest colors for fonts include black and white. You may consider using effects like a shadow but make sure it is not acting as an obstacle for users. What is the right Font Size
The font size is an important point to ponder upon. Try and keep the size neither too large nor too small. Too large size look gawky and the smaller font size can pose a challenge to the weak-sighted people.
Alignment of text
A good graphic design uses the left alignment of text as most of the languages are read left to right. Justification text is now an old school of thought and new designers do not use in publishing or web design
You can study in detail about typography in the Graphic designing training course offered by TGC. It is also a leading training provider in all kinds of graphic designing courses. For more details, you should visitwww.tgcindia.com.
Contact Us