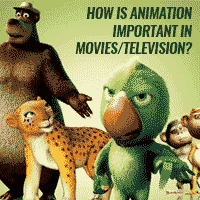 welcome
These days' animation and movies seem to be quite a strong bond. Independent filmmakers are using animation to send their messages out. Not every small production house can hire big actors to play the roles and this opens doors for animation. Besides this, cartoons will always stay alive and animated for years! Other than that, animated movies are gaining a lot of success on the silver screen compared to the movies made with stellar actors. No one can forget movies like Toy Story, Frozen, Finding Nemo, Shrek, Lion King and the list goes on. If you want to step into the path of animation then make sure you find one of the best animation institutes in Delhi to learn the art form. What else makes animation so popular in the movie and television world, let`s find out…
You can cross limits with animation – If you have seen the popular TV show, The Simpsons, then you might have noticed that there are tons of times when Homer Simpson has been stabbed and brought back to life after 10 minutes or in the next episode. Such things can only be shown in animated movies or TV series. If you were an avid follower of Tom and Jerry, then you know that both characters suffered injuries and got better in just 5 minutes! Such limits can be crossed with animation. You can make dogs, cats, and anything come alive with the help of animation. If a house can fly with the help of balloons in the movie 'Up,' then anything can happen in the animation world.
You can go berserk with your imagination – We just gave some strong examples in the previous points, which are related to imagination too. You can make an entire movie on a love story about two ducks, trees, penguins or anything with the help of animation. You can push your boundaries with the help of animation to let out the message you want to. Animation has become a strong part of the film industry, which is incredible because individuals get to show their creativity and imagination.
There are so many genres – Yes, the animation doesn't have to be cartoons only. Movies, which are animated, too have several genres. While some are comedy movies, others are hardcore action films and some of them are plain romantic ones. This is yet another benefit of animation in the world of movies. A writer might have penned down a basic romantic movie, but with the help of animation, you can really make a difference. For example, Wall- E is a story about a robots journey on Earth. It would sound berserk to have such a film with real actors but when you watch the animated version, it is heart touching.
All we are trying to say is that animation has brought in a lot to the movie and television industry over the past years. If you too want to be an animator, then do consider this as a career option. The demand for great animators is quite high in the market these days!