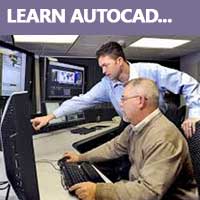 welcome
The CAD technology came into existence nearly three decades ago and since its inception has been looking up to. Not just this, there is an ever increasing number of people who aspire to become efficacious CAD drafters. Numerous fields like architecture, engineering, manufacturing and this list seems never-ending are reliant on CAD technology for achieving their drafting and designing needs. With the advancement of computer technologies, CAD has also evolved and is still progressing. The first step you need to take is to enrol for an AutoCAD Course. Gear up for becoming a CAD drafter by strengthening your English, Maths and Science knowledge along with maintaining a grip on computer skills to reach the pinnacle of your career.
What are the job responsibilities of a CAD Drafter?
You need to be familiar with computer skills and capture the as much hands-on experience as you can during your training as you will be preparing 3 D plans or drafting designs and other things for various projects. As the name itself implies, Computer Aided Drafting, students spend several hours of their day in preparing blueprints or layouts.
Why go for the only certified course?
Most present-day employers want a proof for your proficiency in CAD technology and other related software technologies before hiring you. Make sure that the institute in the hands of which you will be resting your future is affiliated to known universities and offers authentic and valid certificates at the end of your Course. Check the curriculum before zeroing down on any institute and also ensure that they get you placed after course completion. You can evaluate their placement cell by tossing their past records.
Choices in terms of the field for CAD course
You can choose between civil and architecture or mechanical CAD course depending upon your educational background, interests, strengths, career scope, etc. You can knock the doors of a career counselor before finalizing one course.
Duration of course 
An AutoCAD Course the it Civil and architecture CAD course or mechanical CAD course the duration is same. The course can be completed in a time-frame of 2 months. The aspirants need to attend classes thrice a week and each class last for at least 2 hours.
Project Work and Practical Training
 During your Course, you will be asked to submit a total of six projects. Out of these 5 are minor projects and one is a major project. Successful completion of project work using authentic tools, techniques that adhere to ethical grounds result in successful completion of the course and valid certificates from affiliated associations or universities are awarded to the students.
TGC Animation and Multimedia
TGC Animation and Multimedia is an ISO recognized institute and was established back in the year 2000. It has the best faculty to nurture the future of CAD aspirants. The illustrious institute has been the choice for international students for years. You can check out all the details about the institutes, courses they offer, etc. on their official website http://www.tgcindia.com. They provide free demo classes for all their courses.
Contact Us