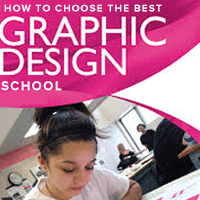 welcome
What is Graphic Design?
Anyone can spot a McDonald's restaurant when they see its bright yellow "M" logo. Don't we all remember the appearance of our favorite album/magazine cover, a print advertisement or a restaurant menu card? Anything communicated visually remains in our memories for a long time. Graphic design communicates a message simply through a visual representation(art), some printed characters(typography) or a blend of both. Customers can connect with an organization well through a good graphic design. An organization can ultimately grow its customer base and leave that extra mark in the minds of its customers.
Graphic designers use their creativity along with a set of communication tools to convert a message into a design. A good design is eye-catchy and is easy to recall. Graphic design as a career option attracts many graduates/post-graduates around the world. It is very important to take raw ideas to a whole new level and communicate the intended message in an attractive form. A good graphic design course can help you channelize your creative energies in the right direction. There are many Graphics and Animation Courses which you can enroll in to gain expertise.
Graphic Design Institutes and Career Prospects
Many good graphic design institutes have developed in India. Some of these institutes are located in Delhi. These institutes offer Graphics and Animation Courses to help the learner broaden his/her horizons. It is very crucial to evaluate certain parameters before enrolling into a course at one of the institutes.
If you wish to enroll in any Graphic Design Institute Delhi or anywhere else first ensure that the institute employs latest software design packages and methodologies to impart knowledge. Hands on knowledge or internship are very crucial. Always find out about the reputation of the institute. An institute which has good industry tie-ups and offers placement assistance should be a better choice. Apart from these parameters, a good institute should provide an environment filled with lots of creative & passionate people. This will keep you motivated and you will learn new things. To begin with, just go to Google search and type "Graphic Designing institute Delhi", you will get a list of available options in Delhi.
If you are passionate and creative graphic design is the right career choice for you. You can work from home or choose to work from the office. You can build an online design portfolio to attract employers. A graphic design institute will impart you a good knowledge of all the graphics software like Adobe Photoshop, Adobe Flash, Coral Draw etc. You can then use these software's to build graphics and convey the intended message. Images are very powerful as they convey a brand's personality. One can even depict emotions through them. Graphic designers are employed by marketing organizations, advertising & media agencies, retail stores, design studios and in almost every other place where attractive visual communication is needed. The demand for this profession will continue to soar in the near future.
Contact Us