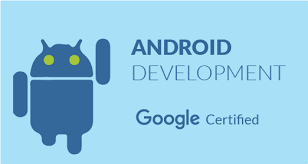 welcome
The number of device manufacturers switching to Android for mobile phones/tablets is continually on a rise. With a rise in the number of Android devices, many Android applications are being developed every day. These trends have fuelled the demand for Android developers/professionals.
This article explores how you can get certified in Android. It explores the things which a good android training institute offers and the ways it can help you develop a lucrative career in the field.
Many institutes offer a specialized course in Android Developed. Once you complete the course successfully you become a certified android developer.
Course Prerequisites: Most of the institutes demand just a basic graduation degree and little knowledge of Java. Some institutes demand basic XML skills along with Java skills from students who wish to pursue the course.
Course duration: The courses generally range from 2-3 months. Students can choose weekdays or weekend batches based on their specific requirements.
Course curriculum
A course from a good institute focuses on the key concepts, insights and industry best practices of Android architecture. The course starts right from the basics like the history of Android, its architecture, components, Android source code advantages etc. It then transitions to android development/programming concepts.
You will be taught the basics of Eclipse and Android ADT plug-in to effectively build and debug Android applications. The course from a good institute will teach you the concepts of Android UI and usage of various UI elements, layouts, themes, styles, menus, adapters etc. You will be taught the concepts of telephony, web services and everything else which can be utilized to build great Android applications.
After the completion of the course you will be a certified android developer.
Teaching methodology
The trainers who conduct the course are skilled industry professionals with over 6-7 years' experience in Android application development for reputed clients. These trainers are skilled in android programming, J2ME and Java.  The course curriculum is carefully crafted and updated by these professionals to capture the latest trends/techniques in android development.
The trainers/faculty members of a good android training courses train their students through interactive exercises and practical sessions. The students are encouraged to work on many live projects.
TGC Animation & Multimedia is an animation and digital media training institute offers advanced certification in Android development. TGC is one of the fastest growing institutes in India for Android development. It offers a specialized curriculum developed by reputed professionals in the field of Android development.
The students who pursue the Android certification course with TGC are encouraged to work on many live projects so that they learn the art of designing and building Android applications before joining work. The projects are supervised by the skilled android trainers. The institute conducts weekdays as well as weekend batches to best suit each learner's needs. A student can also request for a demo to explore the course details.
To sum up you can become a certified android professional through a good institute. A good institute will provide lots of practical hands-on training so that you are in a position to create and publish Android applications independently. Are you ready?
Contact Us