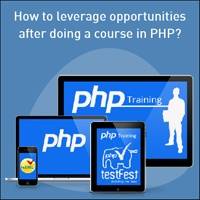 welcome
PHP or Hypertext pre-processor is a server-side scripting language presently being deployed for almost every website. Due to such immense demand employers are hiring PHP developers like never before. PHP course in Delhi is the key to unlock the opportunity for you to work as a PHP developer in one of the most reputed companies in India and overseas. One thing you should keep in mind is that you go for a certified course as that speaks aloud for your proficiency in the language and nowadays wherever you give interviews, employers mostly employ professionals who are certified over other professionals.
Course duration
A PHP course in Delhi can be completed within the duration of two and a half months. However, if you are not familiar with concepts of HTML, how a browser interacts with servers using HTTP requests, etc. then it might take a little longer for you to master the skills and knowledge of PHP.
How to enhance your opportunities post course completion?
Make your CV visible: until and unless you make your presence felt no one will ever notice you. Therefore, upload your CV on at least four to five major job portals. If you are looking for international offers post completion of PHP course in Delhi then make sure your CV is also visible to foreign employers
Stay in touch with Placement cell: if you haven't managed to get placed in any of the companies that visited your campus during your PHP course in Delhi don't lose hope. Stay in constant touch with the placement team and inquire about the employers coming in there, eligibility criteria, etc. and if eligible sit for the objective test and interview rounds.
Work as a Freelancer: Freelancing is a great thing, to begin with as it earns you experience. You can do this sitting at your home and who knows you might just end up with your own IT Company providing robust solutions to several clients.
Go for all interviews: Even if you are rejected in one or two interviews doesn't mean that you aren't qualified enough. You should have faith in your abilities and work to overcome or bring down your weaknesses. Moreover, going for every interview will help you to know what questions are being asked, what qualities are being expected by most of the employers, etc.
Give online tests: Even when your PHP course in Delhi is going on you must give online tests to monitor your progress. This will also help you prepare for the technical and objective rounds which almost every aspirant has to go through for being selected as a PHP programmer.
Don't give up practicing: The famous quote saying out of sight is out of mind holds true for programming languages. Everyone including you and me tends to forget the concepts of programming platform if we don't take out time for practicing and revising them. Hence, continue practicing and your results will surely pay you back.
Contact Us