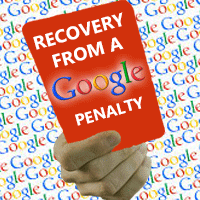 welcome
Due to the introduction of Google algorithms like Google Panda, Google Penguin and Google Hummingbird and the constant updates of these algorithms intended to make Google a better search engine by weeding out, less than par search results. A lot of webmasters and search engine optimization manager constantly find their sites which once ranked higher now ranking very low or even completely yanked out of the organic search results. Here are a few steps to regain your websites when they have been affected by a Google penalty. It is important to know what kind of penalty a website is facing due to SEO mistakes.  Penalties can either be
1. Manual Penalty.
Where a message is sent to you by Google in the webmaster's account to inform him of the penalties.Algorithmic Penalty- This occurs mostly when there is an algorithm update and the website does not match the new algorithmic requirements and as such the site drops, the only way to detect this is the drop in traffic from organic search results. Recovering from this penalty would involve going through the sites that are ranking high for that particular keyword and comparing your website with them.
2. Get rid of Spams on your Website.
There are a lot of activities that can be regarded as spam. Examples of these include the use of link baits that have very little or nothing to do with the landing page, an example of these links purporting to show celebrities in questionable situations that lead to web pages that are not related to that link.
Reciprocal links between two sites are also referred to sites who exchange links just for the sake of ranking especially when the two sites have nothing in common. The worst of these is for a site to be in a link farm, where links are exchanged for ranking. Hidden texts or links or a white link text on a white background, where the link doesn't correspond to what the web page is all about. All these things need to be taken out of the sites. All reciprocal links, link farm links, and hidden links. Unethical redirects to other pages that are not related to the anchor text also have to be removed.
Other spams such as keyword overload, repetitive text, and unnatural links are to be removed from the site. For the site to recover, all these things have to be done.
Send a reconsideration Request for a Manual Penalty.
This involves writing Google and requesting to be put back in the organic search results. These requests should include all steps taken to correct the problem specified in the manual penalty mail. A spreadsheet of your inbound links, disavowed links etc. send these documents using Google drive where a Google employee can easily see and take note.
3. Tackle Algorithmic Penalty.
When you notice a drastic drop in traffic from organic search, do the following.
Remove all ads above the content page. Ads should be by the side or below the content
Check the speed of the site using a site speed checker and consider removing JavaScript and all other things that make the site load slowly.
Create more engaging content.
Contact Us