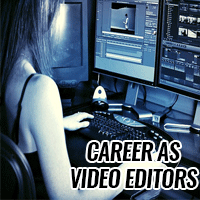 welcome
If you have your skills in video mixing, then trust us, you are a hot cake in the market..!! Investors started investing big in media, filmmaking, advertisements and such other fields, creating huge opportunities for the jobs of video mixing. If you have your zeal for computers and programming, then undoubtedly, this is one of the best courses to opt. A video mixer is a device, which helps to select various audio and video clips to merge them into a single output.
Check Out, If You Are Fit For This Role:
As an expert in video mixing, you have to do the following:
The equipment you work change with a number of factors. You have to be open to work in any new environment and with any sophisticated equipment.
The transmission language plays a key role in this field. You must have a complete understanding of it.
If you are working on a video mixer, that means you are in a hot seat. You have to be terribly cool to handle extremely pressurized situations. You should have sharp reflexes.
Your work area doesn't always stay in favor of you. You have to be focused all the time.
You have to be a troubleshooter. Never panic, if you sense something going wrong.
It is an added advantage if you are a multitasker and have appreciable organizational skills.
There are many people who interact with you on several issues. You have to communicate effectively with everyone. Pay attention to every small detail out there.
It will be expected that you will have a strong command over programming.
You have to present a perfect mixture of audio and video clips.
If you can't read the musical scores, then you are inviting trouble. Make sure that you can read them with ease.
How to Choose the Best Institute:
Once, you have selected the course of your choice, it's time for you to hunt for the best institute. Your career growth depends upon the institute you choose. Here are a few tips for you to choose the best institute for a video mixing course in Delhi.
Check out the certification of the institute before joining.
Know your faculty..! Check out their profiles from the official website of the institute. Well skilled and experienced faculty can take you on the right path.
Never ever hesitate to ask the placement records of the institute. Check out the number of companies visiting the college and their packages.
Know the content that is provided by the institute in your course. Compare it with the latest curriculum out there.
Working on authentic software applications can shape you better. Get to know more about this by contacting the institute officials.
Check out the fee structure. A few colleges ask you to pay in installments, whereas others don't. Compare the fee structure with other institutes out there. Don't hesitate to join even if it is a little higher than other institutes around you.
Meet the old students of the institute. This is the best way to know more about the institute.
Contact Us