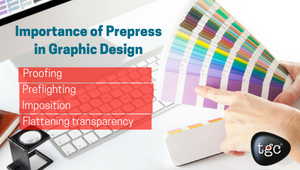 welcome
Prepress is the term used in a graphic design course to define processes which take place before printing and finishing. These days, a lot of publications are published in both online and print versions. This process is also known as pre-media. Here are some of the benefits of a pre-press process for students in graphic design institutes 
You get to learn new shortcuts and techniques from digging into files provided by the customer and to learn how to assemble them.
You can gain expertise in using rulers, guides, and measures in your software.
Terms like bleeds, trapping, die line (cut), registration, offset, spot color and camera ready will be the part of your daily life.
You can have proper knowledge of image resolution and know how pixels will be seen on paper.
You can get to know the difference between the way transparencies work on press and color modes.
You know all the key differences and steps to prepare files for web or press purposes.
Prepress Process in Graphic Design
With the advancement of desktop publishing in graphic training college and the world, a lot of professionals in the graphics industry overlook the prepress in graphic designing. Here are the aspects in the prepress process –
Preparing data, including product photography and copyediting, for example, mail order catalog.
The layout can be made with one of the major graphic design applications like QuarkXPress and Adobe InDesign. People often use the common tools like Microsoft Publisher or Office. You can find a huge range of specialized tools for database publishing (DTP) work.
Rectification sequence covers the processes like image retouching and proofreading. For doing this, Photoshop is the best-suited tool.
Proofing – Proofs are being created already during the design stage. The company which is engaged in printing also creates proofs. It can be done for customers to sign the proofs off for approval and for internal checks of positioning. Hardcopy proofing is another major common process in case of proper time and for expensive and color-intensive jobs.
Preflighting – Before getting finished pages to go along the rest of these processes, validation should be performed to find out if all data meets the important production needs.
Complete flats or pages should be rendered or ripped to output data. This type of process also covers screening, color partition, trapping, and managing colors.
Imposition – The final output covers the number of pages into signatures.
Flattening transparency – Drop shadows and other transparency effects should be fixed.
Some people are also used to delay the above processes too late binding. These days, most of these processes have become automated with either prepress workflow or design tools.
With proper knowledge through preflighting artwork, you can learn some of the good design habits which start to show up through your designs. You can eventually notice that you have become more efficient and your design starts to achieve more aesthetic and professional look. You can easily know what you need to do to fix a 'sloppy' design.
Contact Us