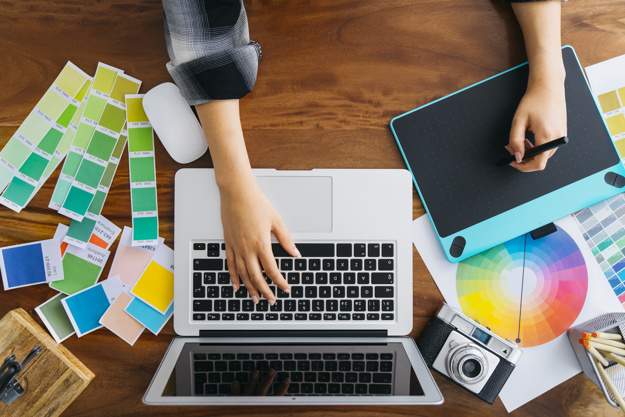 welcome
Visual content is something that catches people's attention way too quickly. This has become one of the major processes to do content marketing. In the post covid era, while most of the office goers are working online, a question comes in mind: is it possible to learn Design as well in an online mode?
Graphic Design in the Pre and Post Covide era and its impact in changing times
In modern days, graphic Design has many benefits that can lift your business to the peak.
Beautiful creations emblem with the right communication strategy and the optimum channel would lead you to take more contracts and hence, raise your recognition on a local and global basis.
Brand recognition, communication, raised market position, and consistency is the significant conveniences of promoting a business with the help of visual content. Although graphic Design has always been here even before the time computers evolved and then the advent of internet technologies has fuelled its reach and made the real penetration from chosen ones to masses.
Corona pandemic has affected the lives of every human being on the face of the earth, and now Design has to be more reasonable with changing times, has to be more accountable than being good looking hence people feel more responsive. The Design will play its role over time concerning all the sensitive social norms, Visualisation of the otherwise complex data which people can't relate easily. Graphic design learning will also change classroom coaching to online learning to stay safe while not compromising learning goals.
Is it possible to learn Graphic Design online?
Online learning has undergone a revolution, with the advent of COVID-19. Most of us keep on upgrading ourselves, whatever the profession we might have chosen. In certain situations, online classes were enough, and, in some cases, the learners had to visit institutes or centers to learn something new.
But now, learning online has almost become a compulsion. With the regular stream of studies, like school and college education, turning to the online mode of teaching, the scene is different now. The question is, can graphic Design learn online?
Yes, a professional course like graphic designing, can always be done from the comforts of the home. Some excellent institutes are offering the same. If you intend to pursue an online graphic designing course, look after the following prerequisites:
The institute should boast of some of the best Graphic designers in the role of trainers.
The center should be having years of experience in providing quality design training.
You should have access to a good number of ex-students who can help you with their feedback.
The certification should have market value.
And most important, how the institute will assist you for job placement.
For More Information About Graphic Design Course Click Here.
The benefits of online learning
The recent buzzword is, stay home, stay safe. You are enrolling in a course, but not having to go outside for it. What better than this to avoid getting infected or spread the virus?
You are enhancing your degrees and your portfolio but from the comforts of your home.
Learning graphics designing online will help to hone your online skills of communication.
You will become more tech-savvy. As you have opted for an online mode, you have to be good with your technological space in completing the assignments.
The learners can manage their environment, as these online programs are perfect for students who love a bit of flexibility in their learning schedule.
The lockdown, imposed to prevent community spread, has resulted in people managing every household chore on their own. These online schedules are flexible in their time frame and can be organized at any pre-agreed time.
You can choose an online course from any part of the world, not necessarily your country. This will give you access to the global pool of talent and challenging opportunities from around the world.
The employers do provide a good value to some of the best online graphics designing courses.
Conclusion
Well, this is how graphic learning design online is possible today. TGC Animation and Multimedia is a dedicated training institute for graphic Design and creative digital media for the last 20 years, and it is helping in fulfilling thousands of dreams with its provision of designing courses online and in-classroom mode.
Other online platforms are giving certified designing courses as well, but TGC India will provide you with the best learning experience backup by its dedicated resident trainer, guest faculty in Typography, Digital painting, Copywriters, Art directors, visualizers, Layout artist, Packaging professionals, Print People will together give you a lifetime learning experience.
There are a large number of platforms teaching worldwide, choose the best for you, and go ahead.
Contact Us