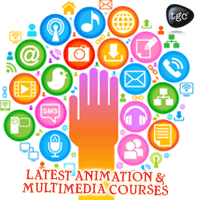 welcome
TGC India is a modern and revolutionary animation multimedia institution giving stress on learning as a corridor to professional success. Multimedia is more than one parallel presentation medium. Although still, images are a different medium than the text, multimedia is typically used to mean the combination of text, sound, and/or motion video. Multimedia can be distinguished from traditional motion pictures or movies both by the scale of the production and by the possibility of audience interactivity or involvement.
Multimedia tends to imply sophistication in both production and presentation than simple text-and-images. Multimedia presentations are possible in many contexts, including the Web, CD-ROMs, and live theater. TGC India offers a complete knowledge of the web architecture from navigation design to integration, search engine optimization, animation principles, traditional animation, Storyboarding the process of animation, 3D modeling and texturing to rigging and character animation than on to compositing the video, non-linear editing, and production management.
TGC India is a Delhi based premier institute of animation multimedia courses. TGC India provides training by the veterans of the industry; professionals with experience of more than 10 years and having recognized area know-how. The syllabus is designed accordingly; taking care of theoretical aspects including the knowledge of conceptualization processes, the origin of design ideas as well as hi-tech advancements taking place in the present-day digital world. The schooling modules followed at TGC India dwells on the incorporation of art and digital technology imparted on the latest paraphernalia, in and outside the institute.
TGC India hires the best of minds of the animation multimedia industry as a guest faculty who regularly visit the Institute for delivering lectures. TGC offers it students a well-stocked library of tips and tricks with online support. In fact, TGC online support is available to its students even after they pass out from the institute and are employed elsewhere. This reflects our deep commitment and underlying philosophy of providing creative learning solutions.
Apart from education, TGC has a state of the art design studio based in Delhi for its production work. Students pursuing their program get this opportunity to work in TGC studio on live projects at the later stages of their curriculum. We are distinctively ahead of others as TGC provides students a very good placement at the end of their program. TGC has this unique reputation of the best institute that offers courses inanimation multimedia at affordable prices. The Multimedia & Animation contents offered at the TGC is inclusive of the following contents
Graphic Design
Web Design
2D and 3D Animation
Which has the further sub-modules in:
Illustrative Design to Raster Imaging and Layout
Web design and interactive multimedia presentation and Authoring the CBT and WBTs
2D Animation, Storyboarding, Clean Up and I/B  and creating digital BGs
The programme is also inclusive of 3D modeling, Inorganic and Organic modeling, facial modeling to the advanced texturing, material and lighting techniques. At the core, we also teach students Advanced character animation inclusive of rigging and dynamics. TGC also offer the ultimate contents in Audio video post-production having sub contents in compositing and non-linear editing along with the sound design and creating a promo and a short fils.
TGC also assure placements after submitting a digital portfolio.
For more information, please visit www.tgcindia.com
Contact Us