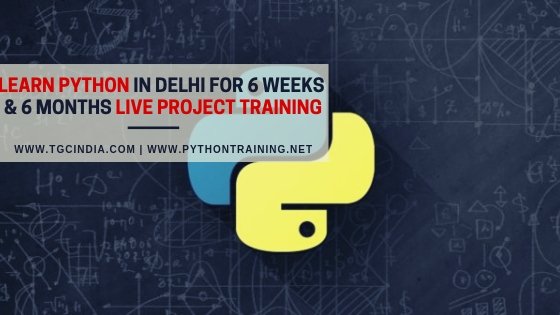 welcome
IT sector is one of the flourishing and most rapidly growing industries in India. Pythontraining.net a specialised wing of TGC India is organizing 6 months and 6 weeks Live Project Training which has been designed for both working professionals and students who come from different academic backgrounds to gain excellence in the huge segment Python, Data Analytics, Data Visualisation, Machine learning, Deep Learning, Artificial intelligence etc.
The main reason behind learning Python with Live Project Training is that they can prepare well for placements in leading corporate giants. TGC India is the best Python training institute in Delhi for job oriented Industrial Training which gives exposure to professional environment in the industry to the students and to also improve their self-confidence at the same time.

In addition, it also develops leadership skills and feeling of responsibility among students to execute or perform the task given. We also provide students training in Python language for 6 weeks to help students comprehend theories accompanied with hands-on training and features used in the real life job situations.
At TGC India, we provide the best Python courses in Delhi to teach latest and recent technologies to students with practical and theory classes. We are the best industrial training institute for both students and corporate employees.

Along with it, we also offer placement assistance to fresher candidates. We provide 6 months training to fill the gap between practical and theoretical knowledge so students can easily implement the concepts they have learned in outside world.
We serve as a platform for students so they can implement their learning in live projects in the classrooms. In addition, we also help our students to achieve competencies and skills they need to become job ready.


Who can opt for our Live Project training?
If you are looking for a launch pad to make an entry to the corporate world or IT industry and want a practical training, TGC India is the best platform for you.
B. Tech, M. Tech, BE, BCA, MCA, M.Sc. IT, B.Sc. IT engineering students who are looking for industry experience and internship program
Students who are pursuing their graduate/diploma/post-graduate degree in IT/Engineering/Computer Application and looking for 6 weeks or vocational training in between semesters.
What are the Objectives of this training?

Training has been designed to provide clearly defined set of technical and practical skills which can be achieved just after program –
To develop techniques and skills that are applicable to their careers directly
To develop skills in theory to practical situations
Work smoothly as team player or individual
To implement system-based approach to evaluate and design operational performance
To build ability to improve sharing ideas and creativity skills of students
To recognize need to conduct life-long learning
Work smoothly as a team player or individual
Why TGC ?
We have certified trainers and industry experts with years of experience who provide a reputable qualification. We are well versed to provide an edge to our students with new skills and knowledge in technology. We are here to help you build on professional skills and improve job security in job roles which are changing rapidly.

Contact Us