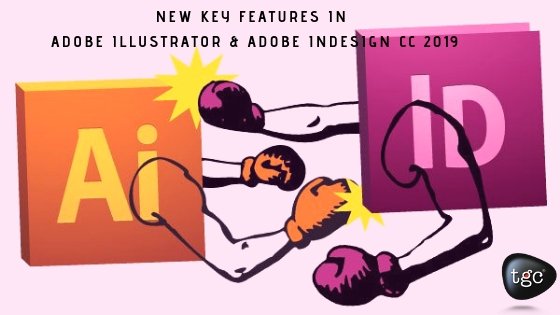 welcome
Adobe has recently announced some of the major updates in Adobe Illustrator and Adobe InDesign CC 2019 to make a big change to your work life. So, without further ado, let's check out those new features that will help you in TGC the best graphic design courses in Delhi.

What's new in Adobe InDesign CC 2019?
Both beginners and advanced level users will enjoy the following new features in Adobe InDesign CC 2019 –
Properties Panel – It has been added in the latest versions of Adobe Illustrator and Photoshop. It is now added in InDesign. It helps you change everything you select. For example, it shows sections for Appearance, Text Style, Paragraph, Bullets, etc. if you are editing text.
Content Aware – It is a fitting feature which uses a machine learning technology, Adobe Sensei, to fit the most vital aspect of image to a graphic frame.
Adjust Layout – This feature is 'life changing' for anyone who has to change dimensions or size of page margins or documents. This feature is really very helpful.
Space between – If you have made lists where you have to control space before and after item, this new feature will definitely help you.
Font features – Along with Typekit to be rebranded as "Adobe Fonts", you can now activate unlimited number of fonts. You can also filter, find and activate fonts from a new Font menu directly.
Table footnotes – It is one of the most widely-used features as you can easily add footnotes to text in the table.
Import PDF comments – Do you have comments in PDF files in order to implement in InDesign? Now it can be imported and some changes are also made for you.

New Features in Adobe Illustrator
When it comes to changes and improvements, Adobe Illustrator has not been left behind.
Here are some of these awesome and cool features –
Global Edits – If you want to make several copies of the same art, Adobe Illustrator can dramatically make changes to one of them.
Freeform Gradients – Gradient meshes and gradients are always difficult. But this cool new feature can help you make complex and amazing gradients with ease.
Custom Toolbar – The toolbar in Adobe Illustrator is full of many tools. You can now customize the toolbar to de-clutter things.
Integrated to Adobe Fonts – You can now enjoy the improved experience to explore and choose the best font in the illustrator with this release. Adobe Illustrator is now integrated to Adobe Fonts directly so you can choose from over 14000 fonts under Creative Cloud membership in Adobe Illustrator CC.
You can easily preview fonts in the design without having to activate them. It simply takes one click to license and activate the font if you like what you find. You can do these all for free as part of membership from Creative Cloud.
Presentation Mode – You can also present your work directly in Illustrator. Make each artboard a slide. Hide the application menu, guides, panels and frame corners for your audience and let them to focus on your designs only.
TGC India is the best graphic design institute in India where we provide the best courses to learn Adobe programs. Our old students can contact TGC for Free upgrades absolutely free of cost.

Contact Us