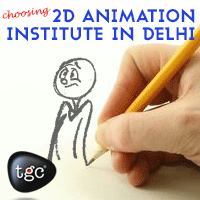 welcome
2D animation is the creation of moving pictures in a two-dimensional environment, through "traditional" cel animation or in computerized animation software. Done by sequencing consecutive images, or "frames", that simulates motion by each image showing the next in a gradual progression of steps. The eye is "fooled" into perceiving motion when these consecutive images are shown at a rate of 24 frames per second or faster. 2D animation techniques tend to focus on image manipulation.
2D animation is simply making objects move in a two-dimensional space. These objects vary from stills, like photographs or logos to more complex objects, like 3D graphics.
Animation Institute in Delhi: TGC Offers
2D character design using light boxes and punch sheets.
Line tests and using dope sheets.
Placing characters in a scene.
Conceptual design.
Storyboarding
Gesture study.
Clean Up
In Between (I/B)
BG Design
Mannequin study
Claymation
Production and time management.
We enjoy a reputation for our commitment, TGC India is proud for its quality assurance record. TGC has a unique reputation for the best colleges in Delhi that offers courses in 2D Animation at affordable prices.
The Training module at TGC India dwells on a combination of art and digital technology imparted on the most modern facilities, in and outside the institute.
TGC India invites all known personalities of the 2D Animation who regularly visit campus to deliver lectures.
TGC offers its students with a well-stocked library of tips and tricks with online support. TGC online support is available to its students even after they pass out from the institute. This reflects our deep commitment and underlying philosophy of providing creative learning solutions.
Apart from education, TGC has state of the art design studio based in Delhi for its production work. Students pursuing their program get this opportunity to work in TGC studio on live projects at the later stages of their curriculum.
TGC India is a Delhi based premier college of 2D Animation Training Institute. TGC India provides guidance by the experts of the industry; professionals with experience of more than 10 years.
The curriculum of study is designed according to the trend and is modified regularly. TGC takes care of theoretical aspects as well as technological advancements taking place in the contemporary digital world.
We are distinctively ahead of others as TGC provides students a very good placement in the field of 2D classical or Traditional animation at the end of their program.
For more information, please visit www.tgcindia.com
Contact Us