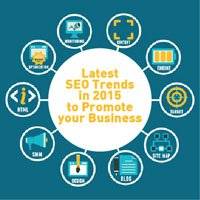 welcome
Search Engine Optimization is an effective mechanism to increase traffic to a website and accelerate sales. However, SEO is evolving at a rapid rate due to the onset of new trends and techniques.
This article discusses the latest SEO trends in 2015 which you should be aware of to promote your business. Good SEO courses in Delhi keep on updating their curriculum to train students on the latest SEO trends and techniques.

Latest SEO trends in 2015 for business promotion
The search engines keep changing their algorithms and therefore the SEO technique which you use today may not help much tomorrow. These are some of the latest trends in SEO which you should be aware of for effectively promoting and strategizing SEO for your business.

Mobile Optimization
Mobiles and smartphones rule the market these days. Around 40% of the people access the internet through their mobile phones. This means that to improve a website's traffic and sales it is important to keep your website and it's content mobile friendly. Create a mobile version of your website and build a responsive site design for promoting your website to the majority of your users.
Better Onsite experience
Don't just fall for black hat SEO techniques like paying for links, posting links on unreliable sites, keyword stuffing and spamming. The key to effective search engine optimization for you and according to the search engines is only through excellent user experience. Provide quality content on the websites which the users value and need.
If users are given what they want your site will automatically remain on top rankings irrespective of SEO evolution. Good SEO courses in Delhi train students on this aspect.
Long content
A study by Moz shows that the longer articles with more keyword count will attract more links. Quantity and quality of backlinks play a vital role in search engine ranking and therefore longer articles with more quality links will attract more website traffic.
Therefore aim for a word count of at least 1000 for some articles. Keep things simple and easy to understand. Use images and data analysis wherever required for concept clarity. SEO courses in Delhi at TGCIndia guide you on these aspects too.
Leveraging Social Media
Social media has become a way of life for people. Facebook had around 1.2 billion users in 2012. Users spend around 2.9 billion hours on YouTube. Therefore you can maximize your SEO power with social media.
Establish a good presence on social media sites first like Facebook, Twitter, and Google+. Install social share buttons on your content and posts. This will allow users to easily share your content on their profiles and give easy access to their friends.
Use your brand's social media accounts to post content and other stuff in order to attract users to your brand and improve traffic to your website. SEO courses in Delhi teach social media marketing too!
Integrating multimedia
Include videos and images with your text content to enhance user experience and connect with the audience better.
To sum up you need to be vigilant of the latest SEO trends to successfully promote your business. Some of the latest trends are mentioned above. Keep yourself updated. If you wish to learn the latest SEO techniques join one of the SEO courses in Delhi.
Contact Us