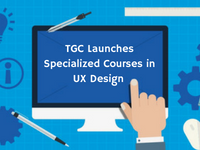 welcome
TGC India offers the best UX design course according to existing industry standards. With our training programs, professionals can easily land into their dream profession in leading MNCs. TGC is one of the most anticipated UI/UX design institutes in Delhi offering practical and hands-on training and knowledge on live projects and ensure job with UI/UX training in advanced level. At TGC India, we have specialists and corporate professionals with years of experience and certification in deploying real-time UI/UX to conduct UX training in Delhi.
We are well equipped UX training institute in Delhi. Here, candidates can implement these concepts on real-time projects with UX training modules –
UX Designs
Wireframe Designing
Browser Compatibility
Wire-frame Designing
Types of Layouts
We are the leading UX design training center in Delhi with high-end and advanced lab facilities and infrastructure. We provide access to servers so candidates can implement projects at home with ease. We have trained thousands of candidates with Adobe XD training in Delhi.
Along with it, our classrooms include projectors to help students understand concepts in a very innovative way. We are one of the leading UX training institutes in India with 100% placement assurance. We follow the standardized placement preparation model to ensure your placement.
We are associated with leading organizations like HCL, Dell, Wipro, TechMahindra, TCS etc. so we can place students in leading MNCs across the world. We have provided placements to thousands of students based on their areas of interest and skills making us the leading UX training institute in Delhi. We also keep track on the growth of students and help them improve their level of knowledge and improve their performance levels.
What is UX?
UI and UX are some of the most confusing and puzzling terms in the world of technology. A great user experience starts UX than UI. Both are important to ensure the success of the product. UX design is about creating most commonly-used websites and apps which are user-friendly for end users. It is about considering the needs of the target user and how can they access what they want. It is about the way they can interact with information and navigate the design. A lot of graphic designers don't know what is involved. But UX design is not all about graphics.
Why TGC India for UX Training?
Recorded video tutorials of training sessions. If you missed any class, you can use them.
All training programs are designed according to existing industry standards and are live training projects.
Our placement partners have approved our training curriculum
Training is conducted on the weekly and daily basis and we can also customize schedule according to your needs.
Live Project training conducted by trainers who have years of industry knowledge and experience.
Certified professionals to conduct training.
Well-equipped labs with latest software and hardware.
Classrooms are designed well and equipped with Wi-Fi and projectors
100% free personality development classes including Group Discussions, Spoken English, Presentation and Mock training for job interviews
Related Courses :
Contact Us