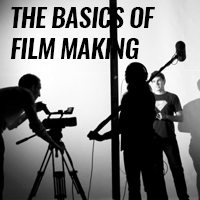 welcome
Filmmaking is an art, which not everyone can do. It requires a beast out of you. Besides having a creative set of skills, you must have some technical knowledge.  This is a serious money-making venture and you can become an overnight sensation. After all who does not want to be famous? If you are interested in filmmaking, you may start following your dream right away. You can start small and launch yourself big. If you want to learn the basics of filmmaking before joining any prestigious film institute, you can start from opting for various short-term courses in photography, videos, and sound designing. You can find the best courses and pursue them from various institutes such as video editing institutes in Delhi. 
Filmmaking is a power and magic by using which you can make your dreams a reality.  You can create your own world and live many lives, in the films you make. As a filmmaker, you must be a good storyteller. Sometimes the way you tell a story is more important than a story. No matter how great a story is, the way you present it on-screen is the thing that will win hearts.
So what are the basics of filmmaking?
Evolving technology has made filmmaking a more complicated task than a simplified and less consuming task. You have a good camera, a great story, money to make a film, is that all? No, there are various other important steps, about which you must know
 #1 First Step – Pre-Production:
 Although all the things are important when you are making a film, this stage is more important because you plan things in this stage, you sketch your plan and the blueprint of all the things.  Like deciding locations, hiring professionals, deciding an approximate budget, complete all the paperwork.
 Remember the good the planning, the good the results in the production and post-production stage.
 #2 The Production Stage:
 This is real filmmaking. The most exciting stage. Although if you have given proper time to the pre-production stage, then it would not take much time to wrap things up and enter in post-production age.  Keep in mind that this is the most expensive stage. To keep things going according to the plan, you must follow the schedules and budget issues properly. The shots and scenes must be captured with the utmost importance as it captures the imagination of a viewer the most.
In this stage, you will learn so many things and will meet so many new people, sometimes a life-changing event can change you for good, this is the reason this is called the most exciting stage of filmmaking.
Contact Us