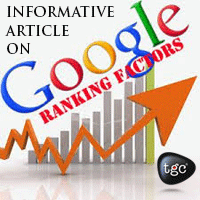 welcome
The sole essence of Search Engine Optimization is ranking websites on search engines. A series of activities needs to be done, based on the ranking algorithms of Google, which leads us to the complete unofficial list of Google ranking factors. Here are a few of them.
PAGE LEVEL FACTORS
Outbound Link Quality: Initially outbound links were regarded as not affecting the ranking of a website by Google,  that has since changed among SEO experts who believe that linking out to an authority website on a particular keyword might actually boost both website rankings. It follows the reasoning that if a website links to the authority website, the new website must indeed know something about the keyword, they have chosen to write about. Ranking higher than the landing page of the outbound link, however, might not be possible solely based on this single criterion, except the new website excels in other ranking factors in which the authority website fails.
Outbound Link Theme: Just like outbound links are important, outbound link themes also help categories a website for a particular keyword, especially when those keywords have a dual meaning. For example, a site that has apple as it's a keyword that links to a phone store or another mobile phone site would help Google associate that site with mobile phones and the computer company, Apple as against the fruit. This would help the site rank for Apple the computer company instead of Apple, the Fruit.
Grammar and Spelling: It is important to spell check your content before posting them on the internet. Spelling mistake and poor Grammar is increasingly being used by Google to take down mediocre sites originating from India and China mostly. It follows the reasoning that most authentic sites would have little or no spelling or grammar mistakes while mediocre sites would surely be filled with grammatical errors.
Syndicated Content: Syndicated content would rank high but never as high as the original content. This is however very tricky because the original at times can be wrongly selected by the search engines depending on the frequency of crawling, it does to the two sites. Using Date stamps in URL and post helps to reduce this mistake but never really completely solves it.
Using supplementary content: The use of supplementary content falls under the "content is king " umbrella. Supplementary content includes currency converters, scale converters, interactive forms, calculators etc. These are content that would be useful to the visitor after he has read what the website content is about. An example of this is a weight loss site that has a body mass index calculator on it or an interactive meal planner based on calories contained. These contents help to give the visitor a rewarding browsing experience, exactly what Google wants it's used to get.
Contact Us