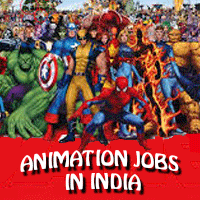 welcome
Animation Jobs in India are constantly on the rise with a 23% increase in the INR 18 Billion to INR 54 billion in 2014 in the value of the animation industry in India. The Animation industry is also projected to grow by at least 19 % over the next five years.
The animation is the process of creating a continuous motion and shape change illusion by means of the rapid display of a sequence of static images that minimally differ from each other. The illusion—as in motion pictures in general—is thought to rely on the phi phenomenon.
The growth of animated movies has been deeply rooted in the demand for animation as a  form of entertainment in both films and movies, as a form of e-learning and adverts creation and as a means of visual effects for television and movie programmes and also in the game development industry.
The game development industry is an offshoot of the animation industry which is set to be an entirely different industry on its own within the next few years.
The animation is not limited only to film and television, although that is it's most common applications, the animation is also extensively used in business, sales, engineering, education, and advertising. The demand for Animation graduates has greatly increased in print media and publishing firms. Freelance work for animation graduates is also increasingly common, particularly for web animators. Animation graduates also work in website design, CD-ROM production, graphics designing, and three-dimensional product modeling. The gaming industry is one of the highest paying areas of animation; this area, however, requires a knowledge of scripting and programming. The game design might not require scripting but the development aspect can only be done through scripting and programming. The Programmers are however usually much more rewarded than the game designers. Animation graduates that hope to enter the gaming industry would have to learn to programme preferably python and the use of software like Unity 3D., unreal engine and game maker studio.
According to an industry expert, Shalini Gupta, "Junior animators or trainees could get between Rs. 8,000-15,000 per month. With three to five years' experience, they can earn Rs. 25,000- 40,000. A well-experienced animator who has a good portfolio of excellent animation work could easily get Rs. 50,000-60,000 per month. With US and European studios outsourcing work to India, and Indian companies creating a number of animated films and cartoons, the future looks bright for creative animators.  "
Training is, however, the most important aspect of animation. Standard Degree or Diploma training in Animation is very vital and although there are a lot of animation schools in India, very few are actually training their students to meet the skill requirement of the industry. Although starting salaries of animation graduates are generally small compared to their counterparts in the field of engineering and medicine, animation experts such as 2D/3D Animator, 2D/3D Designer, AV Editor, Technical Trainer, 3D Modeler, Multimedia Programmers, Compositors, Visualizers, Content Developers and Pre and Post Production executives can command between 7-12 lakhs per Annum.
Contact Us