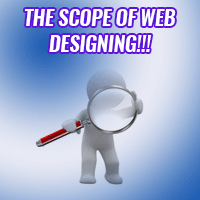 welcome
What all is demanded of a news website? It needs to be prompt; it needs to be accurate; and above all, it needs to cover up all the relevant information needed to move the product or service. That is why a number of businesses these days look forward to having professional web designers to create intriguing websites for them. Designing a website is not that simple as it seems. It requires a lot of knowledge about field among which the clarity of the basics is very important. In some cases, many amateur web designers understand the basics, which is why they are able to create websites on their own. But when it comes to maintenance, marketing, content development, and other related aspects, that particular amateur web designer is not able to bring out the best of results. So, the companies usually try to hire professional web designers, who understand the complexity of developing a website.
Everything is moving to the online world:
As you can see, a majority of businesses are shifting towards this online platform where there is a lot of scope for not only marketers but also the designers. The companies are always looking for developers to help them create intriguing and responsive websites that could help their clients stay in contact with them anytime. A business present on the West side of the globe might not be able to communicate with customers present on the East side of the globe. But thanks to the Internet, the world has shrunk to be more interactive. Websites are the most prominent way of getting in touch with customers these days. And, to develop them, web designers are surely in demand.
How students can progress in this field?
The students, who are interested in learning about web designing, should understand that without proper support from a reputed institute, it would be really hard to succeed. We do not say that such a student who is not part of an institute cannot achieve his or her goals in life, but a great way to approach big clients needs to be facilitated after finishing up a proper course in this field. There are a number of institutes that can provide with such courses related to web designing. With the help of such colleges, a student would be able to understand not only the basics but also the complex algorithms involved in creating alluring websites.
Choosing a web designing course in Delhi can help you out in this field. Such a course will help you learn the professional approach to either work for a great company handling their websites, or create a rewarding clientele, which can be fruitful and creating an image for you. The support we provide in such fields will enable you to stand with confidence in front of your clients. Not to mention, the high profits covering up all your expenses and letting you live more peacefully.
Feel free to learn about it through various posts present on our website. You can also inquire through our customer support team.
Contact Us