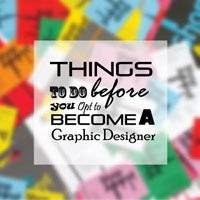 welcome
Do you know the key elements to be successful in any profession? Undoubtedly, it takes a lot of practice, a certain set of skills blended with right amount of patience and to succeed in the field of graphic designing you need to have the similar attributes. Graphic designing is all about the visual presentations of your ideas and the main area of working is designing the advertisements for newspapers, magazine, web pages and these days clothing as well. This field of graphic designing is growing rapidly, and if you have a creative side, and spastic with some innovative ideas, then you can definitely choose a graphic design course for you.
There are a number of institutes which provide you a diploma in graphic designing course. However, after your diploma to opt for this profession it is important for you to do some preparations beforehand.

Choose the area of interest
Before anything else, it is important for you to choose the area that enthrals you, in graphic designing only. Whether the web development, multimedia or the print design appeals you that is totally a personal decision. Although graphic designing is fundamentally the same, but concentrating on one in the beginning can help you give your best.

Practice
It is important for you to give more time and research well, to get your skills to a higher level. Getting the right skill is not that easy as it appears to be, the experienced designers have spent a large part of their time to practice and research to reach the position where they are right now. Don't forget it's your incessant efforts and the inquisitiveness to learn more which will help you get more and more experience in this field.

Have a network
Building a network is another important thing that you have to do; being surrounded by the work team to support you definitely helps you in different situations. In order to expand your network, it is recommended to attend more and more seminars and meetings.

Experience counts
Gaining experience is another significant thing of this list. Focusing only on the diploma is not enough in today's competitive world. Most of the employers are in search of the designers who are experienced in this field, in addition to their diploma. So it is recommended to search for such programs, which train students for preceding experience in this field.

Build an impressive portfolio
Although portfolio building starts in college only, but it is important that you keep on making changes and up gradations in it from time to time. This will show your creativity and the knowledge of the new technology as well.

TGC is the right choice
For all those who are considering careers in graphic designing it is very important to choose the right school. One such choice which will never disappoint you about your decision is the Delhi based TGC Animation and Multimedia. Their graphic designing courses focus on the attainment techniques and will give a crucial foundation to enter the professional field.
They offer graphic designing courses at different levels and in different areas. Thus, helping you get the accredited learning to develop the career of your choice and to help you surpass your understanding to join the workforce. Apart from graphic designing they offer a large number of other courses, such as Graphic Pro which is an advanced diploma in Graphics + Photography + Visaulisation+ Portfolio design apart from that TGC conducts certification courses such as Advertising Design, Layout Design, Prepress, Advanced Typography course, and certification courses in Photoshop, Coreldraw, Illustrator, InDesign, Dreamwaver and Flash etc. For more information you can log on our  official website www.tgcindia.comthing