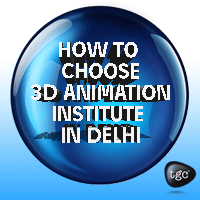 welcome
TGC India is a modern and pioneering 3D Animation Training institution giving weight on edification as a conduit to professional success.
3D animation is the heart of virtual reality and can be used in presenting graphics to add flair to the visuals. Animating objects that appear in a three-dimensional space can be rotated and moved like real objects.
TGC 3D Animation institute in Delhi offers various courses under the 3D Animation Training; media animation, character modeling, character animation, special effects in movies, games modeling and texturing, scientific animation, architectural walkthrough.
TGC India is a premier 3D Animation institute in Delhi. TGC India provides training by the veterans of the industry; professionals with experience of more than 10 years and having an established sphere of expertise. The curriculum is designed according to the need of the hour; taking care of theoretical aspects including the knowledge of conceptualization processes, the origin of design ideas as well as technological advancements taking place in the contemporary digital world.
We enjoy the reputation for our commitment, TGC India is proud for its quality assurance record. The Training modules followed at TGC India dwells on the amalgamation of art and digital technology imparted on most of the modern facilities, both in and outside the institute.
At TGC India the best minds of the 3D Animation industry are in the panel of the guest faculty. They are regulars at the institute guiding students with an in-depth knowledge.
TGC has a mastery of offering specialized courses in 3D inclusive of
Character Modeling
Inorganic modeling
Environmental designing in 3D
3Ds Max and Maya 2009
Texturing and Material
Wrapping and Unwrapping in 3D
Rigging in 3Ds Max and Maya
Character Animation in Maya and 3Ds Max
Advanced Dynamics in 3D software
Rendering
Vray techniques
Advanced Camera Walkthrough techniques in 3Ds Max
CAD Design for Fashion, Jewellery, Graphic design
Scientific Animation
Cartoon Animation
Character Morphing
TGC offers it students a well-stocked library of tips and tricks with an online support. In fact, TGC online support is available to the students even after they pass out from the institute and are employed elsewhere. This reflects our deep commitment and underlying philosophy of providing creative learning solutions.
TGC also customizes corporate training at client end with client specific requirements.
Apart from education, TGC has a state of the art design studio based in Delhi for its production work. Students pursuing their program get this opportunity to work in TGC studio on live projects at the later stages of their curriculum.
We are distinctively ahead of others as TGC provides students a very good placement at the end of their program.
TGC has this unique reputation of the best institutes that offer courses in 3D Animation at an affordable price.
TGC assure its 3D animation students a very good placement at the end of their curriculum. TGC has got a specialized Placement partnership cell which works some of the finest animation studio in the country and outside.
For more information, please visit www.tgcindia.com
Contact Us