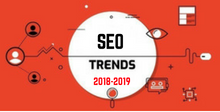 welcome
SEO or search engine optimization is known to be the most sought-after topic in the world of digitization. Search engines keep their ranking algorithms to their own and they don't reveal the same. You can get a lot of industry knowledge through trends, observations, and experiments. As discussed before, Google or any other algorithm is not static, it changes constantly. You need to optimize a lot of new things with new SEO trends in 2018-2019 –
Voice Search is a New Trend
Search is also about voice search, along with just typed phrases or keywords. There are several tech giants focusing more on digital assistance and it is paying them off greatly. Businesses should focus their strategy to leverage from this trend. We all are entering a new dimension of communication. Mobile is the main source of information for most people. It is estimated to rise 130% in the use of voice assistant.
Google is getting better and better to know regional languages and meanings behind searches. It is just the beginning of machine learning. Voice search has definitely become a prominent trend these days. So, you should also consider this trend for SEO training.
More Focus on Video Results
Video has become the most widely used content across the web. So, search engines shouldn't overlook it. It is true that more than 55% of users watch videos online every day. YouTube counts over 1 billion hours of video content usage every day across the world. You can't even imagine how many billions of hours are spent on Vimeo, Netflix, and other video streaming sources. Even some SEO courses in Delhi are focusing on video optimization.
Priority on Local Search
Google is more inclined towards user satisfaction and relevancy and learning about local queries gradually. More than 95% of users perform local searches on mobile. Thanks to the growing usage of mobile devices, local searches are on trend. People are looking for all types of details on their mobile devices. Hence, Google is working accordingly to optimize results.
Google's Direct Answer
Since the launch of the Hummingbird algorithm, Google started optimizing its search results with the knowledge graph. It gives results on level zero with a direct answer. These days, Google shows four different types of direct answers.
Mobile First Index
Google has announced a huge change in its way. It will prefer mobile first to rank sites. Its algorithms will use the mobile version of a website to rank pages to consider the structured data and to present snippets from your site to results. Google has also announced that it has started to make this change and it has also moved a lot of sites to this index which will be monitored by their search staff.
With this change, the goal is to focus on how people use the web these days. Usually, they use their smartphones and search Google on the go. Hence, the ranking system of Google is a holdover for web pages from days of desktop sites. So, they still focus on the desktop version of content to find out its ranking and relevance.
TGC India is the best Digital Marketing Institute in Delhi where you will get the best SEO training and learn about its deep concepts.
Related Courses ::
Contact Us