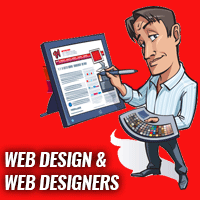 welcome
The world is evolving, and the digital revolution along with the internet revolution has taken the world along with its wave. Internet marketing has become the face of the marketing and it will soon take over the mantle of promotion and marketing from the conventional way of marketing. Various techniques are being used by sought-after companies to promote their businesses or services. The internet has given birth to so many career opportunities.
One of the most important techniques is web designing – an integral part of the web. A visitor first impression of a web page is from its design.
In the age of internet, web designing is one of the most sought after careers and skills. If you want to become the part of this revolution which is changing the face of the way, we live and of entire human civilization, then you can join some good institutes, which offer good courses in web designing. As a designer, you must be creative and think out of the box. There are good web designing institutes in Delhi. Besides designing, there are many other aspects of web designing too. You must have a good set of skills; these are the few things you must keep in mind if you are interested in choosing web designing as your career.
Skills Required
Although many companies claim that they will hire you if you have a degree either in computer science or a diploma in computer applications. You must keep in mind that a degree is not must, it only helps you in getting a job and increase your chances, but the most important thing is the skill.  Get good communication skill as it is a must. When it comes to the skills, you should also be able to explain the various dimensions of the website to your clients.  You may have a great idea about a design, but you must also know how to implement them.
If you are designing a website then keep in mind that you don't overdo anything, in order to impress your viewers. Keep it simple and use various innovative techniques, with a little creativity.  A web designer, who can put even the toughest of the task in a fluid design, is preferred by all the job providers.
Job opportunities
It comes with a number of opportunities. In simple terms, the opportunities are simply unlimited. If you start small, you can make a big name for yourself. Keep practicing, never ignore a work because it is small. Even if it is small, it will only add to your experience. You must not forget that if you work properly and with utmost dedication you can be promoted easily.
Please note that a web designer and a web developer are two different people and they have different requirements of skill sets and work.  Although as a web designer you have some knowledge of languages and programming, then you can surely go long and make a niche for yourself. After all, today everything is on the internet.
Contact Us