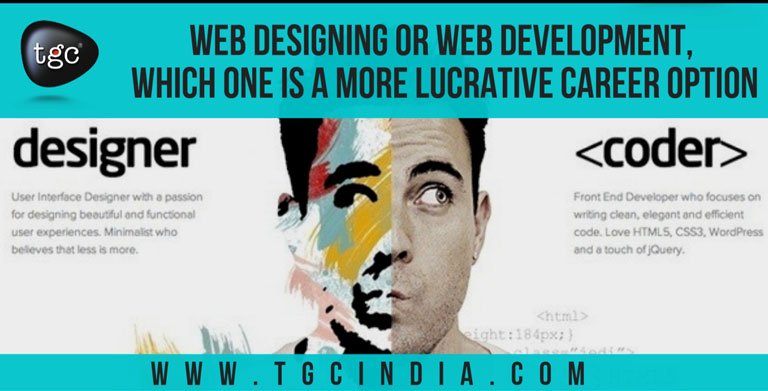 welcome
Both web design and web developments are the terms that are used interchangeably. Many people assume them to be the same. But, actually they are different.
Designers are focused on the look and feel of website. The web design training in Delhi covers the use of graphical tools and design principles along with advanced version features and knowledge of CSS and HTML. Their motto is creating attractive pages and smooth user experience.
On the other side, developers are known to build framework for the web. They are highly skilled in coding in Java Script, JQuery along with backend languages like PHP . They are usually into information flow.
Qualifications
A developer should have proper technical educational background. They should have great analytical and logical skills as part of their academic knowledge and it is also a basic requirement in organization when hiring developers.
Along with a degree and requsite diploma, an added certification from one of the popular Web design courses in India institute will be an advantage, a designer should also have a portfolio showing their design work to land into a dream job. They should also have proven knowledge and skills in design software, such as Adobe Photoshop, Adobe Illustrator, Adobe Dreamweaver
In the beginning, jobs in development are high paying than design ones. If you have attractive and unique designs, it won't take longer to get high paying jobs.
What about both?
There are some "Unicorns" who can do both web design and web development. However, juggling both fields can be daunting. Native applications are the next big thing with the advent of smartphones. The boundaries between development and designing are blurring. Professionals in web and mobile app development are key assets now.
Areas of Specialization
Professionals can specialize in different areas of web development and designing –
Single Page Applications

– SPAs have become a trend these days. Professionals, with its own web development and design shifts, are high in demand.

Cross platform web pages

– They work well on user interface and functionality aspects on all devices – Android devices, PC, and iOS devices.

Illustrations which represent the brand and icon development are also the part of website design process. Quality design can help one achieve brand recognition and image and it is also high paying as compared to the rest.

Developers also use leading platforms like Python, NodeJS, Xamarin, and Angular JS for better products.
What to Choose?
Web development and design are two different fields and need different skills. Simply speaking, design is more on the creative side of the brain (right side). On the other side, development is more on the left or analytical side of the brand. There is a reason for their lack of chances to combine two different worlds. It is often hard to be a unicorn.
If you are still not clear as to whether to choose web development or web design, create your own Photoshop designs first. Or sample your coding skills with HTML or any of your favorite backend language. Notice what sparks your mind the most. Try doing it to set on something new.
Contact Us