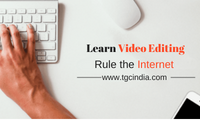 welcome
You have always loved and are still equally crazy for capturing memorable moments in videos from your camera! You have spent hours or maybe weekends editing these videos and aspire to make a career in the field of video editing. Video editing involves editing various segments of a video using different techniques and tools along with the addition of effects to make them more appealing for the audiences. You can learn the inside out of video editing in a Video Editing Training Institute in Delhi.
How can you make a career in Video Editing?
You can make a career in video editing by undertaking a course for video editing from any of the best Video Editing Training Institute in Delhi. They will train you and provide hands-on experience in video editing with the latest tools.
How to choose a good institute?
When you decide to learn the skills of video editing you must prefer a brand name in the field of Video Editing Training Institute in Delhi to get the desired results. Evaluate your institute on the following parameters.
Whether it is ISO certified?
If any school or institute is certified by ISO then you can be sure that it adheres to the standards laid down by ISO. You should prefer such schools and institutions.
Is it accredited to universities?
Not every Video Editing Training Institute in Delhi is affiliated to a university and the ones who are falling under the category of premier institutes. You should inquire the institute about its affiliations and then check whether their degrees are globally accepted so that you don't find any difficulty in finding a job overseas.
Experience of instructors
Instructors are the people who will be shaping your future by using their experience and vision. Premier institutes offering a course in video editing employ staff with tons of experience in the video editing industry and have already served or are working with reputed clients.
Check out the computer labs of every Video Editing Training Institute in Delhi on your checklist. See their system details to ensure that they use the most advanced systems. The premier institute trains their students in accordance with the industry standards on the platforms, tools, and techniques that are currently being deployed in the video editing industry. Hence check for the same with your school.
Seminars, workshops, and guest lectures
Seminars and workshops provide you with a chance to excel beyond your curriculum of video editing course. Ask your institute authorities do they organize or allow their students to participate in such events and showcasing their talent and knowledge. Guest lectures by experts in the video editing industry are another phenomenal approach of educating aspirants about the upcoming innovations in the field of video editing. All this expands their arena of knowledge and increases their interest.
Only premier institutes can live up to their commitment to getting you placed in reputed companies as a video editor professional. Toss the past placement records of all the institutes on your list and get to know which of them offers good placements and packages. This way you can easily zero down upon a good Video Editing Training Institute in Delhi.