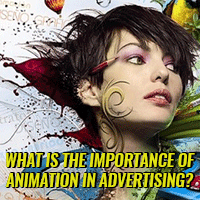 welcome
Like we all know that little bits of animation can make a lot of difference to an advertisement. You can either make a funny looking character or a good looking one. You can always switch up things when it comes to animation. Over the years, you must have noted that there are so many cartoons, advertisements, and movies that are completely based on animated characters. The wonders of animation have hit big, and it is quite a powerful aspect in the industry. There are several important reasons why animation is so essential in advertising. Read on to find out why animation plays a vital part in advertising: –
1. It is entertaining – Yes, you can do wonders with animation. Through animation, you can make a dog talk, sing, dance and so much more. You can do that with several animals like shown in Lion King. Not just that, but you can play around with the character you have created in so many ways. You can make it act just like the way you want. If you are making advertisements about social causes, then you can animate celebrities too. You can change the voices of the characters you have created, the outlook and so much more.
You can go over to the top – With animation, you can cross the boundaries. You can make a character dead in a minute and alive in the next minute if you are making a funny ad. This is the magic that animation does. If you are already a part of the advertising industry, then you know that it is not easy to get celebrities to do every advertisement. You can simply animate people and create a funny advertisement for people to enjoy.
It gives out the message effectively – Animated ads and videos are very effective in giving out important messages. You can go deep in details with the animation to put a clear picture for the audiences. For example, a real-time video may not show the proper message and there could be glitches. You cannot reshoot things over again, but with animation, you can always create it at the end moment and add what you want to. Like we stated earlier, you are allowed to do what you like with your own creation.
It shows your creative side – We watched a cat and mouse fight on TV for several years. To date, we can never get enough of Tom and Jerry. The person behind the creation had this simple idea in mind to show to the world what it would be like if a cat constantly chased a mouse all day long. Real animals could never have done what the animated ones did; this brings us to the vital point that you can show your true creative side with this art. The cartoon is still a rage amongst people!
If you want to make iconic advertisements then animation is the way to do it. Don't forget to join the right and top animation institute in Delhi to learn the subject.