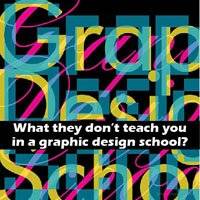 welcome
You are happy with your projects done in graphic design schools? You are proud that you have managed to get placed well in advance before your graphic designing course gets completed! And you have mastered all the tools and technologies backward and forwards required to become a successful graphic designing professionally. Well, despite these milestones achieved there are a lot of things that one doesn't learn in the curriculum defined by these schools. Some of them have been listed below.
How to communicate?
None of the graphic design schools on this planet earth can teach you communication skills. You need to communicate and improve your skills during your lifetime. As a graphic designer, you must listen to your clients to get a better understanding of his requirements. A lot of professionals find it difficult to communicate with clients or to even deliver presentations for their projects, ideas, etc. Communication, however, is one of the more critical parts of how to pitch your campaign to the client. One must learn it from their peers, or one needs to question it from their mentors while you studying and pursuing a graphic design course.
All tools but no techniques
Graphic design schools can teach you the tools that are being used presently or widely but they cannot teach you techniques to use the tool, its widely observed that most of the graphic design schools impart a spoon feeding process of making students learn the tool but not telling them the actual techniques in what situations, conditions and combination a tool must be used. Tips and Tricks are what make you distinguished in the graphic designing industry for achieving different results under varied circumstances.
How to use feedback?
Your instructors will find fault in your projects but none of them will tell you how to utilize their feedback in a positive manner. You get to learn this with the course of time when your clients, boss, colleagues, etc. suggest you changes or specify their requirements.
They cannot teach you to be creative
Creativity cannot be learned as one needs to think creatively to stand out in the crowd. Creativity is one thing a person is born with and that is the reason why everyone cannot become a graphic designer or poet or an author. You need to be passionate to achieve success in the field of graphic designing.
How to manage deadlines?
Instructors at graphic design schools provide you with sufficient time to complete your project work. They do not alter their specifications, unlike your clients who will. The needs of a client can change and with that, you need to change your graphics. Your boss or client will not be giving you months to come up with a graphic.
How to work as a team?
In companies, you will be required to work as part of a team and under the leadership of your team leader. The team may or may not love all of your ideas and you must be open to their suggestions or feedbacks.
How to handle rejection?
In the graphic designing industry, one needs to compete with equally or highly qualified graphic designers. Everyone will give in their best efforts to win appreciation from a client, but as we all know only one person or a team can win. You should prepare yourself to handle a client's rejection and instead of getting de-moralized you must strive harder to earn success. None of the graphic design schools can make you an expert for handling rejections.
TGC is a conglomeration of designers, where you learn graphic design in a completely different perspective, Apart from the daily classroom session, student goes through special session with visualizers, Art Directors, Creative Directors and share their experience at work, regular excursions in advertising agencies, newspapers departments, printing presses is how we make students learn graphic design. Our faculty happened to be creative professionals passed out from NID kinds of schools with years of experience. Come to TGC for a free demo and have a feel of it.
Contact Us