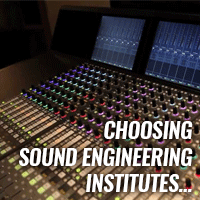 welcome
Audio engineering refers to the study of sound related tasks and jobs like audio tape mixing, recording, maintaining the bass, tempo and other sound quality enhancing elements. These sound engineers, also known as audio engineers, are a prime requirement for the functioning of multimedia tasks like movie making, video, and audio mixing. Audio backgrounds in various games and applications are an add-on to their other features, and for creating these audio backgrounds, the audio engineers are hired.
Just like clothes are designed by fashion designers, audio engineers are the designers of sound effects and background scores according to the needs and requirements of these soundtracks.  In the radio industry, which is totally dependent on sound, the importance of these sound engineers further increases. In various special shows, which are broadcasted on the radio, the sound effects hold special importance, and it is due to these sound engineers that such effects are successfully created. However, the art of sound engineering does not come easy and proper study is required to master it. It is considered advisable to go for a proper school for studying sound engineering.
Sound Engineering Schools
Usually, students acquire formal instruction and knowledge in sound engineering through sound engineering schools. These schools offer broad and serious preparation in different fields of sound engineering, for example, Recording and Production. Since there are countless institutes that grant this type of instruction, it is fitting to choose a school on the basis of certain criteria.
The strength of the class and amenities offered – It is necessary to know the number of students enlisted in a college as it has been noticed that institutions selecting the lesser number of students offer better studying environment. Another integral component is the course offered by the preparation institution or foundation. From live recording to sound effects creation, these sound engineering schools provide practical learning lessons in all sound engineering related skills, depending on the type of course you pursue.
Type of school – Students searching for an effortless studying and a better career in sound engineering can settle on schools that are particular and devoted only to music and video generation. Others can select schools that are a piece of a greater association or University.
Location – With this branch of education not being much opted for even after all these years, there are numerous institutes situated in different big cities and towns that offer this course and in addition, you will have the advantage of being at a suitable location.
The reputation of the school – It is essential to choose a school in the wake of verifying its believability. The school or institute should be popular and do refer to the list of an alumnus to know more.
There are numerous institutes that provide sound engineering courses in Delhi and other major cities like Bengaluru, Mumbai, Kolkata, etc. There are also many institutes that offer 12 week or 24-week courses in sound engineering. The benefit of such projects is that students can choose the pace of their course for enhancement of their career. Students additionally have the choice of choosing the examination center that is advantageous to them. These courses are well known to attribute to their adaptability and comfort.
Contact Us