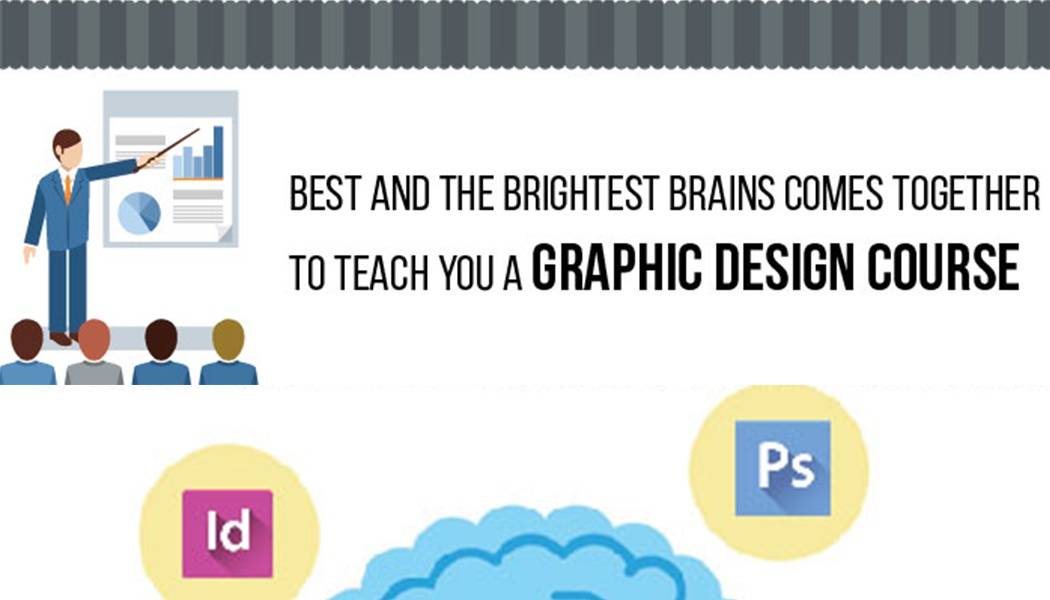 welcome
Graphic design isn't only about creating attractive graphics. It is about creating meaningful graphics which convey the client's intended message. A good Graphic Design course plays an important role to help you master this process.
This article highlights the mechanism used by faculties of a good course to train young students and give them direction in the field of graphic design.
An institute's faculty is very important as they give life to the course structure. A good Graphic Design Institute has an experienced faculty board with rich experience in various graphic design verticals.
Let us check out how the mechanism these faculty members use to teach graphic design and develop skilled designers:
Start from the basics and cover the basic aspects of design
The faculty at a good course starts right from the basics like forms, colors, elements etc. used in graphic design. They cover each building block of graphic design in details so that your foundation becomes strong.
Focus on your all-round development
Graphic design is not only about designs and art. A good graphic design is a result of research, media knowledge, analysis and judgment wherever required. Therefore the faculty taking up a course considers these important and trains you on these aspects along the way.
Use a practical approach and methodology
The faculty at a good Graphic course conducts workshops and studio sessions on a regular basis to make you practically sound. They use a case-study based training approach which is focused on practical industry problems and the best way to deal with them. 
Focus on personal skills development as well
The faculty at a good Graphic Designing course gives personal attention to each student and helps him/her gain specialized skill sets in the area which interests him/her the most. Every student is talented in a different area of graphic design. The faculty is experienced enough to identify these areas and give direction to the students to best pursue their interests.
Help strike the right balance between art and technology
A good graphic design isn't about art or technology; it is a combination of both. To become a skilled designer you should develop adequate skillsets in both of them and put them to best use as and when required. The faculty at a course equips you with knowledge of the fine aspects required for a good design. They teach the most effective ways to illustrate something using the latest design technologies available.
Knowledge and Experience
The faculty members of an institute possess at least 5-10 years of graphic design industry experience. Most of them have a master's degree in the field of Graphic Design or any other related field. The faculty members possess experience in specific verticals/fields of graphic design like logo designing, illustration, brand identity designing or book/print media designing to name a few.
A reputed course also invites guest faculty for lectures, seminars, and presentations. The guest faculty members are often highly experienced and well-known graphic designers. The faculty members are members of reputed professional associations in the field of graphic design.
Qualities and Values
Good interpersonal skills: The faculty members of a course possess good interpersonal skills. They have the ability to build successful relationships with the students. The students consider the trainer's their mentors. They can also easily network with different institutes whenever required.
Excellent time managers: The faculty members of an institute know how to utilize their time effectively. They have the ability to produce great results in a short duration of time and train their students to develop the same skill. This quality is very important in the field of graphic design.
Passionate and imaginative: The faculty members are very passionate about any task they do. They are highly imaginative and believe that dreams can be transformed to reality through passion.
Detail oriented: The faculty members of a course pay attention to even small details and consider every little aspect an important component of the design. They believe that to bring any big idea to life the small details should be given attention.
Learners and motivators: The faculty members are not afraid to learn things from their students. They believe that something or the other can always be learned from the people around us. They motivate their students consistently.
Independent: The faculty members of an institute are independent and self-driven. They have the ability to carry out any task well with little or no supervision.
The faculty members of a Graphic Design course arrange seminars, live discussions and studio sessions and specialized workshops to make the student's industry ready and to solve their queries related to graphic design. They also organize design shows and contests and encourage their students to actively participate in such events. A good course houses the brightest graphic design trainers.
A good institute houses the brightest graphic design trainers. These trainers impart knowledge on each and every aspect of graphic design and make a student totally industry ready. They give your creativity a new direction.
If you wish to pursue graphic design as a career you should join a good institute. You can directly interact with an institution's faculty and check their credentials before selecting any institute to take the course. The training will surely transform you into a successful graphic designer.
Contact Us