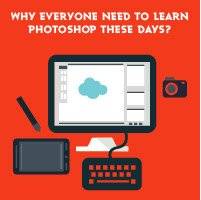 welcome
Learn Photoshop
The world these days has become technologically advanced and not even a single sphere is left untouched these days.  Everyone is using the hi-tech software programs to do their work. One such program which helps them turn their work to masterpieces is Adobe Photoshop. This user-friendly tool is a great way to ease your work process. Undoubtedly, there are many people who are using this software to make great money and also proving themselves in their respective fields. Thus, it won't be wrong to days that learn Photoshop has also become the need of the hour, irrespective of your area of work. To convince you in a better way, summed up here are some of the reasons what everyone should learn Adobe Photoshop.
Gives the chance to express yourself creatively
Creativity has no limits and once you start exploring then the sky is limy. When you get familiar with the programs, then you will see automatically with the passing time, you can actually give life to your unsurpassed ideas.

Can use this for the invitational and stationery projects
The main area where you a make use the knowledge of Photoshop is to create the invites, marriage cards, business cards, posters etc. With creative tools of the unsurpassed software will help you come up with great designs to impress our clients.

Can help you restore old memories
We all know that all of our worn out pictures or our old memories go to the bins only. However, the knowledge of this amazing software helps you refurbish your pictures in a great way so that you can cherish you good old days for your whole life. And not just for an occasional photo edit, world's most renowned photographers to small-time photographers all learn Photoshop in a similar tone for correcting images and enhancing them for various purposes.

Can easily combine text with pictures
We all know in graphic designing the text and the images, both are equally important. Photoshop not only helps you combine these two, but this will also make it look attractive. Strokes, drop shadows, embossed and many other effects can be used to give more emphasis to your text. In Graphic Design and Web Design designers who learn Photoshop will use their acumen to make book covers, info graphs, logo designs, event backdrops, stationary, outdoor signage, creating advertising artworks for advertising etc.

Can make use of brusher also
The Photoshop software ales provide you an option to work with the brushes, this gives a special effect to the whole work. Digital Painting and Matt paintings commonly known as DP and MP are two areas where the use of the specially crafted brush is rampant and useful for the designers.

Can make changes in color
You can use this software to append colors to a picture or to make a photo look archetypal with a black and white color touch. Using this one can also make changes in the use gradient and other tools. Broadcast designers and interior designers also enhance their work after learning Photoshop and applying color effects.

Can correct the mistakes of photography
If you are not satisfied with the work of your photographer then you can use Photoshop to enhance the pictures. You can easily cover the mark in the pictures, poor lighting, red eyes etc. It is also possible to crop the pictures; you want to delete some parts.
So with all these reasons, we can say that undoubtedly there are many grounds for us to be well versed with this software, and the best part is the knowledge of this can be of great help in your profession also. So when are you planning to learn Photoshop classes?
Contact Us