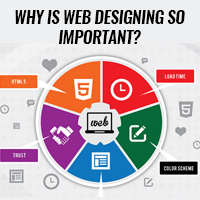 welcome
Each and every online business or company requires a website. To make a proper and nice website, companies appoint web designers. If you want to get into the depth of the subject and you are really interested in studying, then you must look for a great web designing course in Delhi. There are so many countless reasons why web designing is so important for every web page; here are some of the reasons.
1. Navigation – If the website has navigation, then great, but if it is all messed up, then your website is a total dud. Good navigation is essential to help customers find things they are looking for. If they end up not finding anything properly or not spotting the cart, then it can be a bad situation for you because customers will stop visiting the site.
Appearance – If the appearance of the website is not too great, then not many people would want to visit the website. A web designer should bring in the best for the web page when it comes to recognizing the design of each page too. There should be graphics and animation involved to attract the audience.
Brand consistency – If the logo of your company is used in pamphlets, business cards then the logo needs to be on the website too. Not just on the website but as an integral part of it so that the audience can recognize the brand. If your logo happens to change with time then make sure your web designer is updating it! You don't want to confuse your customers by any means.
SEO – SEO (search engine optimization) is what can bring you popularity in the right way. If you work towards improving the SEO of your web page, then you can surely become popular in just some time. But this is what web designers are for; they know just the tricks to include HTML based texts, which can increase the search engine placement of your business on big names like Google, Yahoo or Bing. The journey takes some time, but if you are a web designer or soon to be one, you need to know all the new tricks which keep changing rapidly.
Blogs and content – The content of the website is as important as the other factors. When we talk about content, there are things like customer communications, other details about the website and so much more. The text should be clearly put out in an attractive way on the web page so that the customers can read it easily. Also, you must constantly update the webpage with blogs. If you are the web designer, then you need to design a good and handy blog page too wherein posting from the backend is easy as well as finding articles for customers. If the website is cluttered, then no one would want to spend more than a minute on the page.
Keep all these things in mind if you want to be a web designer. Simple things can make or break the brands reputation.
Contact Us