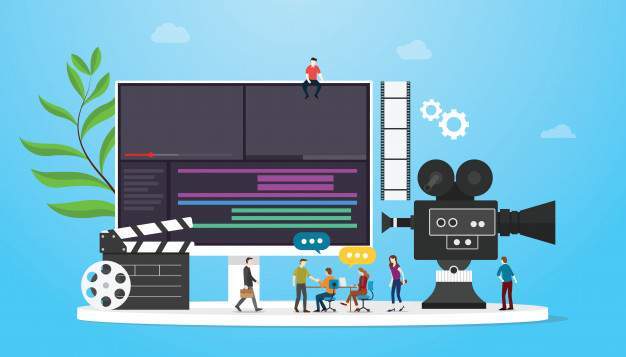 welcome
Video making is not just a trend anymore. It has become a legit career option due to the booming of platforms like YouTube, etc. Not only professionals but amateurs are also entering this sector.
And so rises the million-dollar question: Which is the best software to edit videos?
The answer is a tough one as there are hundreds of software available in the market for video editing. But for this article we've chosen the top 3 popular ones amongst users: Adobe Premiere Pro, Filmora and Final Cut Pro. We'll be discussing their pros and cons in this article. So let us look at the various aspects of these three most popular video editing software:

Adobe Premiere Pro-
Adobe premiere pro is one of the most commonly used and popular video editing software available in the market. It is used not only by amateurs but also by professional filmmakers. 
Launched by Adobe, this industry-leading video editing software is used for creating films, videos, etc. for web, televisions, movie screens and so on. Since its launch in September 2003, it has been a fan-favourite software even in the film industry.
Let us look at some of its pros and cons:
Pros-
It can work very easily with other products of the Adobe family.
It produces industry-level output files.
It is a robust software, so take up even bigger files and deliver them easily.
Cons-
It needs lots of memory on the system to work correctly. Otherwise, one may face crashing issues.
It is only available on Windows. So Mac users cannot use it to edit video files.
It is not very easy to learn, especially for beginners without supervision.
It is only limited to p.c and that also with a subscription.
Final cut pro:
Final cut pro is another industry-level video editing software. It produces top quality results that can be used for professional purposes. 
Like Adobe Premiere Pro, it also is a non-linear video editing software launched by Apple.Inc. The Final Cut Pro X was launched in the year 2011 as a replacement and upgrade of the Final Cut Pro.
The famous movie, The Social Network(based on the creation of Facebook) was made on Final Cut Pro.
Let us look at some of its pros and cons:
Pros-
It can be used to edit high-quality professional projects.
Like Adobe Premiere Pro, it is also a robust application and can handle massive projects very easily.
It has all the features a filmmaker needs to create a top-notch film or video.
It has not only general transitions but also some cool ones for use.
Cons:
It has been discontinued by the company and replaced by the newer version Final Cut Pro X.
It also takes a robust system to handle the application properly. Otherwise, crashing issues are a common problem.
It is only available on Linux and Mac-based operating systems. So Windows users cannot use it.
It is very costly.
Filmora:
Though not as famous as the two above-mentioned video editing software, Filmora has its lovers.
Developed by Wondershare Official, this software is more popular among amateurs lacking professional skills.
Let us look at some of its pros and cons:
Pros-
It is beginner-friendly. So anybody can use it without the need of having special knowledge or skills.
It takes less space and a powerful system to run. So it doesn't put much stress on the computer.
It also has an android app by the name FilmoraGo which makes editing easier even without the need for carrying large systems.
Cons-
In most cases, it manages to produce average level output at best. Also, because of this reason, it is more marketed towards amateurs and hobbyist filmmakers.
It lacks several features, unlike the other two options. Thus, one has to compromise with the available features.
You need to buy the Pro version to access most of the features.
Final verdict:
After looking at all the aspects of the three software, it boils down to usability. Depending on the nature of requirements, all three software can be used to produce excellent content. Also, one needs to keep in mind their budget before choosing any of the three software.

TGC Animation and Multimedia (https://www.tgcindia.com/ ), a school with its headquarters in Delhi, provides top quality video editing courses. Along with it, they also offer different courses like Video Editing, Motion Graphics, VFx, Advanced Composting and Audio Video post production.

Contact Us