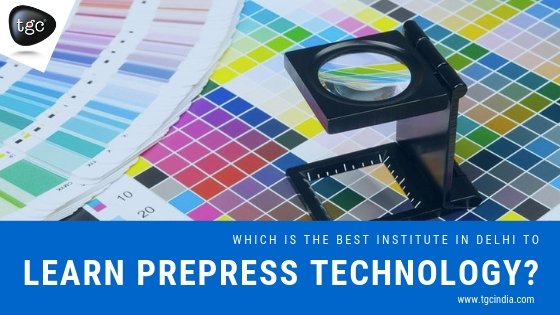 welcome
Prepress is basically the term used as a part of commercial enterprises and printing Service Bureau for systems and procedures between the formation of last printing and print design also knows as job ready.
Techniques include the production of picture transporter, printing plate (CTP), mounting plates on a printing press, and alteration of photos, pictures, and writings, or making great print documents.
Either local application or PDF documents are made of projects in today's prepress, such as InDesign, Adobe Creative Suites, and so on.
TGC India is the best graphic design institute in Delhi to get complete knowledge about PrePress technology. Director of TGC, Mr. Ravi Ranjan is a leading PrePress mentor and have spent many years in the pre-press industry and conducted training in many a places including Adobe India.


Course Objectives
This course is designed to provide complete knowledge to the students about the basis of printing on various substrates. The course includes gear, phrasing, and security.
The standards of counterbalance screen, lithography, inkjet, and laser printing are based on practical research. This course focuses on basic prepress procedures.
Here are some of the objectives of this course –
In this course, the point is to furnish details with comprehension of advancement in Graphic Arts. It focuses on the Graphic Arts advancement from its introduction and trials as well as applications to most recent achievements.
Exhibit comprehension of different types of programs and materials highly used in printing industry and making the right use of it.
Introduction of major improvements, association of printing administrations, structure of organizations, vocational opportunities and more.
Clarifying attributes like contrasts and likenesses of major printing forms.
Depict the grouping of basic printed piece.
Planning and creating simple printed occupations from idea to completing process
Generation steps, phrasing and gear as part of various stages of printing.
Who should opt for Prepress printing course?
Any 10+2 passed applicant who is interested can apply for this course. The candidates should have enthusiasm for inventive activities in PC.

Career Options
You may need to use software programs and digital printing machines to create materials according to clients' requirements as a digital printing press operator.
Here are some of the job roles you can apply for after this graphic design course in Delhi –
Packaging Manager
Pre-Press and Post-Press Manager
PrePress Executive
Senior Prepress Operator
Operators may change several variables in the printing press, including color, dimension, or contrast according to the requests. Some other job profiles are Prepress Technician, Printing Worker, and Press Worker etc.

Job Opportunities
There is no lack of job opportunities in PrePress technology. TGC India helps students to get placement in various printing industries with ease. Our placement cell has qualified professors to help students in counseling. Our students can get all course materials on practical level.

TGC India is a leading and reputed institute to prepare highly skilled graphic designers who get placement in all levels of publication, advertising, news media, digital and off-set printing press and packaging companies in India and across the world.
Here, students can choose from different Diploma and Short Term courses in Graphic Design. We are the leading Graphic Design training institute in Eeast Delhi.

Contact Us