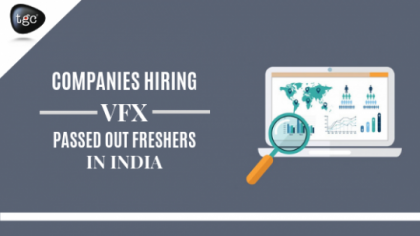 welcome
At the end of a movie, it's easy to ignore thousands of names come after star cast, director, and producer etc. when credits start rolling. VFX studios and artists appear only at the end of credit and audiences often overlook their roles in the movie. But the fact is that VFX studios play a very vital role in filmmaking. There are several leading companies hiring VFX freshers who are passed out from best animation institutes in India and their job roles usually include creating life-like CGI (Computer Generated Imagery) to go with a flow of live action footage. Here are the top VFX studios creating huge job opportunities in India.
Prime Focus
The humble roots of Prime Focus Limited can be traced back to 1995 when Namit Malhotra got together with three of his teachers in the garage of his father to start Video Workshop or a video editing studio. Video Workshop was merged with his father, Naresh Malhotra after two years and started a business of renting filming equipment and later formed Prime Focus. Since then, Prime Focus has expanded and grown its influence and has office locations across the world, such as Mumbai and London. Some of the popular works by Prime Focus World include Harry Potter and The Deathly Hallows, Shrek, and Stars Wars: Episode I, II and III.
Red Chillies
Red Chillies started off as a leading film production company, which was previously known as Dreamz Unlimited. Shahrukh Khan was the partner for Dreamz Unlimited. After the fallout, he took over and turned the company into Red Chillies, which we know today. Red Chillies is founded by him and his wife Gauri Khan, which is responsible for the production and distribution of films since 2003 and making VFX for the films since 2005. Red Chillies is headquartered in Mumbai and it has worked in several big-budget films like Ra One, Dilwale, Avengers Infinity War, and Krrish 3.
Reliance Mediaworks
Reliance Mediaworks was initially founded in 1975 by Manmohan Shetty. Later on, it was renamed as Adlabs Films Limited. In 2005, it was named again as Reliance Mediaworks when Reliance ADA Group bought most of the shares of Adlabs. It runs one of the leading cinema chains in India, BIG Cinemas, which has also spread its wings in the US, Malaysia and other countries. Reliance Mediaworks has over 500 screens across the world. Headquartered in Goregaon, Mumbai, Reliance Mediaworks has worked on several Hollywood classics like The Expendables 2, Transformers: Dark of the Moon, and G.I. Joe – Retaliation.
Prana Studios
Prana Studios was founded in 2003 and has been founded by Kristin Dornig, Arish Fyzee and Pankaj Gunsagar. It has offices in Mumbai and Los Angeles (USA) and has employed more than 1000 VFX professionals across the world. It has worked with some of the world leaders in visual effects and animation, including 20th Century Fox, Walt Disney and Paramount. It has worked in several films like Plane: Fire and Rescue, Thor: The Dark World, Tinkerbell Movies, and Transformers: Dark of the Moon.
TGC India is the leading animation institute offering the best VFX courses in Delhi for students who want to make a career in animation.
Contact Us