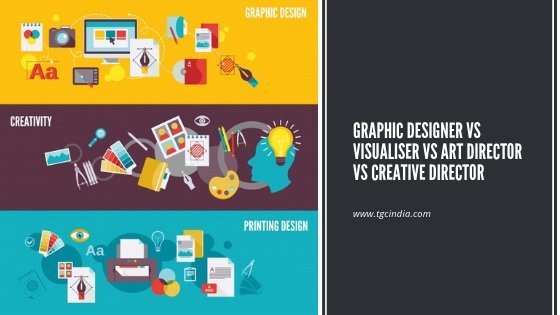 welcome
We keep coming across these jargons when we are either planning to get into the career of being a graphic designer or some of us have no clue even after spending couple of years being a graphic designer. Although some of the best perks of tech job are flexible timing, option to work at home or anywhere in the world, and handsome salaries.
But the problem is when you are confused where to start. Graphic Designers, Visualisers, Art Directors, Creative Directors are some of the job roles and you may be wondering which one is best suited for you. Don't worry. We will explain these design fields to help you choose the best for you.
A leading graphic design institute in Delhi and Jaipur TGC will explain the distinction between these three ambiguously sound yet very important designations.


Graphic Designers
It is one of the most popular job titles in the world of tech and design. These professionals have deep knowledge of the basics of design, such as typography, color theory, images and how to use space.
With graphic design course in Delhi, you will also learn how to build logos and make those assets consistent across all the designs you create. They perform most of their work in Adobe programs like Illustrator, Photoshop, and InDesign. These professionals don't need to learn to code. Usually, a front end developer handles the coding part of the project. Well, adding HTML and CSS to their profile is an added plus for a graphic designer.
Visualiser
Visualizer or Visualiser is a job position in advertising. These professionals are assigned to support art directors to produce top quality artworks to make attractive and creative presentations. They are basically the problem solvers in the world of design.
They play a vital role to define what goes in unique voice and style of a brand. Along with attractive designs, they also explain the concepts behind the scenes. They help both graphic designers and art directors. For example, if a graphic designer has any idea when it comes to creating a logo, visualizer helps execute the idea in Illustrator.
Creative Director
Creative direction is more of a strategy-based job than anything else. Whether in fashion, advertising, music, event management, interior design or hospitality, creative directors serve as guardians behind a vision of a brand.
They will take care of what, where, and when of messaging and visuals. They handle the creative aspects, ensure business goals align with strategy and manage business objectives with projects. They are assigned to make a creative brief before executing any idea and then discuss and approve concepts of creative teams.
Art Director
Since creative directors manage strategy and graphic designers are responsible for execution, art directors create vision to make strategy work. They are well versed in graphic design, even though they don't work on small projects.
They turn creative briefs into concrete ideas and they have creative vision to pay attention to detail on everything from video and photography to illustration.
Bottom Line
TGC India is the best graphic design institute in Delhi where you can find different courses to find placement in different companies across India. TGC India is well versed in providing up-to-date course materials and has highly skilled professionals to provide best guidance to students.

Contact Us