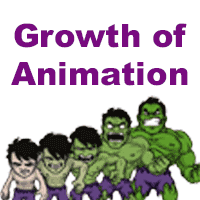 welcome
THE HINDU online edition:
Animation industry on a growth path
Shortage of manpower The visual arts and animation industry is facing acute shortage of skilled manpower, according to R. Madhan, an expert in the field. The animation and filmed effects industry are projected to reach $ 108 billion in 2008 at a compound annual growth rate of 7.5 percent. The gaming industry revenue is estimated at $ 55.6 billion by 2008. The e-learning market revenue is expected to touch $ 23.7 billion by 2008, according to him.
India's animation market is estimated to be just 1 percent of the global animation content development market of Rs.1,125 billion. An unprecedented growth in the mobile subscriber base in India has provided the opportunity for Indian game developers to develop world-class mobile games.
At present, mobile subscribers who are downloading games are about 2 percent of the total number of subscribers. This is projected to increase to 4.5 percent by 2010. The mobile gaming industry is projected to increase from its present size of Rs.200 million to Rs.2,600 million by 2010, says Philip Thomas, regional Manager of Image Infotainment. The industry will grow by 12-14 p.c.
The television advertising market in India is estimated at $1,067 million. The growth of the television industry is primarily linked to the overall growth and development of the economy. With the increasing number of channels being launched, it was estimated that the industry will grow by 12-14 percent, said Mr. Madhan.
Though the animation and gaming industry was tipped for very good growth, there was not much awareness on the scope and opportunity that the digital media presence.
The digital media being a discipline based on the convergence of art, science, and technology, the industry needed more fusion artists who can combine artistic and technical skills, says Mr. Thomas. Meanwhile, a Kochi-based private entity, mobilebulls.com, announced the launch of mobile alert to benefit customers investing in the stock market. The customers who register with the company would be provided with price alerts for the required scripts.
The service would be beneficial to those who wanted to sell or purchase the scrips at a particular price, said Sailesh, Business Development Director of the company.
Source: http://www.hindu.com/2006/10/15/06hdline.htm
Contact Us