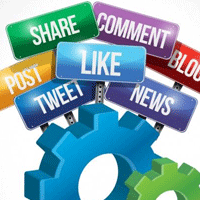 welcome
Search Engine optimization parameters are constantly changing, making it very important to attend an institute that offers alumni update on the SEO syllabus it offers or join an online SEO community. Certain factors that carried a lot of weight in the past, no longer seem to matter because they have either being abused or they don't have much impact on the search algorithm anymore for which search Engines constantly update to serve their users better. It is also important to attend an institution that constantly updates its syllabus.
What are the important SEO Factors for 2014?
QUALITY CONTENT:
The quality of the content is still the most important SEO factor. The resourcefulness and uniqueness of any online content would always add SEO Value to the site in which such content is contained. Having content that provides adequate answers to search queries is one of the most important marks of quality of content based on Google recent lunch of the Hummingbird Algorithm. The layout of the content and the use of different forms of content, such as images, audio, video, and infographics also contributes to the overall quality of content.
AUTHOR RANK:
This factor is a derivative of the previous factor. Once an author is known to supply quality content on his website, he begins to rank higher. Having complete social media profiles for content authors is also a very important SEO factor. Building your author rank is a vital topic that should be present in an SEO syllabus of any standard training Institute.
SOCIAL MEDIA:
Sharing of posts and content on social media is one ultimate test of knowing that a particular content resonates with visitors and is probably a quality content. Social Media shares attribute social signals to a particular content in which the search engines use to rank content. Using social media to improve the search engine results page ranking of a site is taught in SEO training institutes in Delhi such as TGC India.
RESPONSIVE DESIGN
Having a responsive design for a website has also begun to affect its ranking. Responsive design is a website layout that adapts to the display of the device in which it is on.  This means the site adapts well to a desktop, mobile phone or tablet display. In some cases, some sites have customized display for other devices apart from the desktop. This responsiveness of site has helped the ranking of sites, especially when searching on non-desktop devices.
LOCALIZATION
The localization of a business or website is also a factor that has come to affect the ranking of the website greatly.  A training institute optimized with "SEO training in Delhi" keyword would have a higher ranking for search engine queries in Delhi as against just having "SEO Training Institute". This localization helps educational and business websites rank better according to their location in relation to the location of the search query.
Contact Us