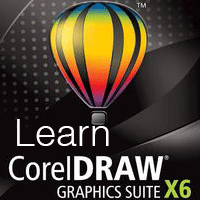 welcome
Corel Draw is the one of the most effective and powerful vector design software. If you want to build a career in graphic design then you can't do away with the learning of Corel Draw. It is a must learn for all the aspiring graphic designers. The program has been used by a majority of digital marketers to create and edit graphic objects. If a bright career in Graphic design is your destination then you must learn Corel Draw.
What is Corel Draw?
In simple terms, Corel Draw can be defined as a professional vector design application used by graphic designers for drawing vector illustrations and laying out any computer generated artwork. The program can be used for myriad purposes such as packaging design, brochure design, catalogue design, poster design, publishing design, stationary design etc. It is a must for advertising agencies and outdoor media houses because it can be used for making powerful branding and easy incorporation of design adaptations.
Why You Should Learn Corel Draw?
If you want to be a graphic designer or advertising artist then you will have to learn Corel Draw. On learning this highly useful program, you would be able to create objects digitally and will finish off the final artwork for across the industry. If you are good at drawing then learning Corel Draw will be a boon and fun-filled experience for you as the program is primarily about drawing. You can give wings to your imagination and can do anything with your digital image visualization.
The second good reason to learn Corel Draw is that the software can deliver vector illustration tools that meet the requirements of designing professionals. With the help of this software you can make books, bill books, business cards, letter heads, advertising templates, packaging die lines, wedding cards and greeting cards. Whatever the field may be for design Corel Draw is equally popular among all the gamut of print design.
If you are not at ease in using pre-fixed shaping tools of this software, you need not worry as you can get hold of a pen-tablet and can give your own creative and personal touch. If you are a professional photographer learning Corel Draw will be an asset for you as you can edit the photos taken by you professionally in Paint, if you are an armature designer you can create a digital album with the help of this program. One can resize pictures, adjust the saturation levels, convert the pictures from one format to the other and also will be able to prepare the document for prepress service bureau.
Where to Learn Corel Draw?
Using this software is not a difficult task. Since it is a user-friendly software many people take help of online tutorials to learn this programming. However, if you want to make a career in graphic design or advertising, you need to Learn Corel Draw from a certified and recognized institute. Also, if you possess innate skills of drawing then learning Corel Draw will be a proverbial cakewalk for you. But, tread cautiously and think before you leap. Getting enrolled in a reputed institution to learn Corel Draw secures your future and provides you a stable earning source. Do not forget to check whether the institute conducts you practical sessions, have a highly qualified teaching faculty and a good placement track record.l