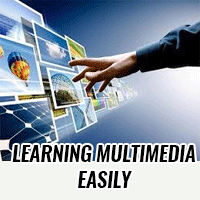 welcome
Multimedia studies in graduation level provide an understanding of theories, techniques of communication through the web, audio and computer. It includes visual communication techniques and theories and fields of specialization. It is a beneficial course as technology is the only key to success in modern times.
Eligibility Criteria
A graduation course in Multimedia is a 3-years programme after which one can also pursue a master degree course.
A high school degree is a must.
Basics of English language should be strong.
If one has a basic knowledge of audio technology or web design, it will be easier for them to grasp.
Degree Offers
The aspiring students who want to pursue this course and looking for best multimedia institutes in Delhi must keep in mind some important things. The courses must include
Multimedia production and authoring
Instructional Designing
Web design, publishing, and graphics
Corporate multimedia production
Advanced computer graphics
Digital Design and Animation
Career Options
After completing a multimedia course, various career options awaits at your door.
Web Designer
Graphic Designer
Video game Designer
Animator
Video/ Audio Producer
Computer Software Designer
The Benefits
Why do degree courses on multimedia? The answer is very simple. In a present society, everything visual and audible is more effective than reading a theory. People do not have time to read pages after pages. Life is very fast. So is the competition fierce? The motto of life has become, learn fast, achieve fast.
Multimedia is a technology and communication concept. It has the sense of using text, sound, graphics and animation.
It is a digital medium. So, the way of communication is modified and more particular. It provides a new dynamic method in presenting a concept.
It increases the power of understanding and the facts are focused more.
A multimedia production simplifies the complex issues. It makes people understand the topic better.
Instant access and control over the production makes it more beneficial.
It saves a lot of time. People get into the topic quickly and become attentive. It does not need reading and re-reading a single theory.
It shows the efficiency and impact of electronic media in daily life. We have become digitalized in every aspect. Then why not learning? It is easier and more accessible. To make someone's life easy, digitization is always needed. This is no exception.
The demonstration becomes easy through presentations. It is easy to explain everything at a single go. As people see and hear, it gets registered in their mind easily.
It is a more stimulating and motivating learning experience and enjoyable as well.
It initiates the active learning property in a human being.
Conclusion
The role of multimedia is surely significant in present society. It helps to make the learning process easy. Whether in schools, colleges, offices or projects—it is an easier mean to subject the problems. Technology has reached a new destination holding our hands. To utilize it fully, one should always go for multimedia presentations. It is real. It helps people to make things interesting in their regular busy lives.
Contact Us