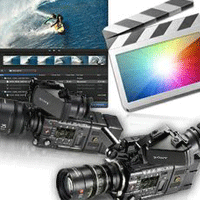 welcome
Video editing is the process of editing segments of motion video production footage, special effects and sound recordings in the post-production process of audiovisuals. Video editing can be linear editing which is the old video editing using a videotape or nonlinear editing using a computer software. There is also an aspect of video editing known as vision mixing, used for editing of live television programs. Linear Editing is obsolete. The best way to carry out video editing is through a video editing software. In order to become a certified video Editor, it would be mandatory to undergo one or two video editing courses in Delhi. Most video editing courses in Delhi handle one or two software so it is advisable to know what your intended editing institute handles. Here is the best video editing software that you can choose to learn from.
FINAL CUT PRO X
Final cut Pro X is the most popular movie editing software developed by Apple Inc. and it was used by Kirk Baxter and Angus Wall, the Oscar-winning Film Editors of Girl with a Dragon Tattoo and the Social Network. This film editing software is the most essential software in editing courses in Delhi. It runs on only Mac Operating systems and has features like multitasking editing and also comprehensive clip manager. It also supports a lot of file formats and is the editing software used by beginners and professionals alike. TGC Animation and Multimedia are one of the market leaders in the segment of video editing courses in Delhi and they conduct Final cut pro training on latest hardware in the presence of senior most editing faculty in India.
AVID MEDIA COMPOSER
AMC is a professional Video Editing software and is used mainly in studios by professionals.  It is not often taught in video editing courses in Delhi since it is not very user-friendly and is not cost effective. It has however been used for films like Iron Man, Iron Man 2, Avatar, The Expendables and a host of main action and visual effects film.
ADOBE PREMIERE PRO
The APP is also a very common video editing software and taught in a lot of video editing courses in Delhi. Its popularity is due to the fact that it belongs to the Adobe family and can easily use with Photoshop, after effects and other software in the adobe creative suite. It is also very easy to use and learn. It, however, has limited file formats compatibility and takes a lot of time to render. Premiere Pro is one more addition in many applications for video editing courses in Delhi.
SONY VEGAS PRO
Sony Vegas Pro is not as commonly used as the previous video editing software but it is not in any way not as good as the first three.  It has advanced features like Stereoscopic 3D Editing, Comprehensive Closed Captioning, and Image Stabilization. It is also not commonly taught in video editing courses in Delhi. It is however used a lot in American television.
iMovie
iMovie is an Apple Consumer video editing software, not necessarily one you would need a video editing course in Delhi to learn. It is made for consumers who make their home videos to be uploaded to social media sites. It is also very easy to use.
This video editing software is the commonest and most effective. TGC India offers a comprehensive video editing course in Delhi. Out of many reasons that TGC has few are Best Faculty to teach applications like Final Cut Pro, Adobe Premiere Pro, Best Hardware including Apple workstations, Firewire devices for capturing the footages, Advanced HD cameras for shooting the footages, Dedicated shooting faculty from scripting, storyboarding to shooting and editing the videos, Study material and last but not the least best trainers in Delhi some of them hailing from prominent TV channels like NDTV, India News, ABP News, Express-News etc. for more details one can visit www.tgcindia.com.
Contact Us