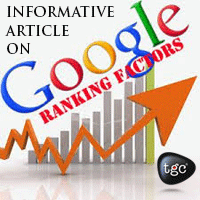 welcome
The Complete List of Google's Ranking Factors- Page Level Factors.
Google has over 200 ranking factors for which sites are placed in the organic search results page. Here is the unofficial complete list of Google ranking criteria.
PAGE LEVEL FACTORS.
Keywords in Title tags: The keywords in the title are one of the most important piece of information for search engine optimization, second to the content itself. It is very important to have keywords in the title tag and for the keyword in question to have been well researched.
Title tag starts with Keyword: Just like in the domain, a keyword starting the title tag is an important search engine optimization ranking factor for Google.
Keyword in Description Tag: Having the keyword in the description tag is also a very important ranking factor. The keywords should be used in a sentence and should not appear forced but naturally occurring.
Keywords appear in H1tags: The use of keywords in the H1 tags of a webpage is also very important for ranking that page.
Keyword in content: Having the keyword occur throughout the web page taking into account keyword density, keyword proximity, keyword frequency, and keyword stuffing is also a very important relevancy signal for a website ranking.
Content-Length: The length of the content has also been known to influence the search engine ranking position. It follows the simple logic that if a site has more content, it is likely to be more important than a webpage with short content and links. It is estimated that a webpage should now contain upwards of 2000 words and a minimum of 500 words.
Keyword Density: Keyword density is the number of times the keyword appears in the web content on the web page. It is supposed to be between 1%-2%. It doesn't hold as much significance as it once did, because it has become known by a lot of webmasters and it is becoming increasingly difficult for websites to be separated based on their keyword density. It is now mostly used as a criterion for a penalty if the density is too high.
Latent Semantic Indexing of keywords: This is the indexing of words that have multiple different meanings and helping the search engine to know when a particular keyword is used. This involves using a group of keywords around that particular keyword. Example of this is Apple which could be a fruit or a computer company.
Latent Keywords in Description Tags: Using another group of keywords with a particular keyword that has dual unrelated meanings is important for ranking the site for exactly what it is to be ranked for.
Page Loading: The amount of time it takes for a webpage to load is very important not only for Google but also for Bing. This is because these search engines want to satisfy their customers with accurate results that load fast and enhances their browsing experience. Flash files slow down a website's response time. Image files should be in the smallest file size possible and in some cases, heavier files should be externally linked.
Contact Us