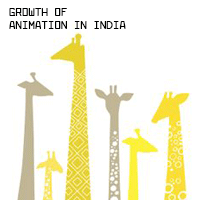 welcome
Price water house coopers International, a professional service firm and one of the big four auditors postulated that the value of the animation Industry in 2014 would rise to about Rs 54 billion . This would mark a 23% rise from it's Rs 18 Billion Value in 2009. This growth is mainly due to India being a destination for outsourced animation Work for the Big Studios in developed countries. The area expected to see the most noticeable growth is gaming. Game character design, gaming architecture and gaming dynamics are all expected to grow exponentially due to the demand for games by both teenagers and adults all over the world.India's first work of animation was a short educational film released in 1974. It was called 'Ek Anek Aur Ekta'. This was telecast on national television in Hindi and was produced by Doordarshan. The animation industry in India has come a long way from  Ghayab Aaya, aired in 1986 on Indian television and directed by Suddhasattwa Basu. It is however still considered a new comer in the animation industry.  Since animation took a full gear in Bollywood, over 30 animated films have been made  among them is the Malayalam film titled "Once upon a time" released in 2013.Four factors drive the growth of the animation Industry in India.
Highly skilled Workers who are readily available
Low cost of production of animation work in India due to the cost competitiveness of the Indian Workforce compared to other American or Asian countries.
The need for co-production due to the demand for custom content development in areas where these products (games and animation films) would be consumed.
The adoption of e-learning programs in educational Institutes. The e-learning program involves simulation of real life situations. This is greatly used in the sciences, medicine and even engineering and it had made online training and distance learning possible.
Animation opportunities are however not limited to gaming alone. Here are the opportunities according to each aspect of animation.

Growth of 3D Animation industry in India
Opportunities include 3D animation include Assistant Director, , Director of Photography, Effects (FX) ,CG Supervisor, Cloth Simulation, Modelling Supervisor, Modelling , Modeller 3D Tracker/Match Mover ,Shading/Texture Supervisor, Digital Painter, Shading TD         Matte Painter, Shader Writer, Texture Artist/Texture Painter     ,Lighting Supervisor, Lighting TD / CG Lighter ,Rigging Supervisor, Rigging, Fixing Rigger, Character ,Rendering Supervisor, Rendering , Shot (Facility Houses),Renderer, Render Wrangler ,Set Dressers.Roto Artist, Scanning ,Scanner/Recorder ,Wire Remover, Runner, Animation Director, Lead Animator (Supervising Animator),Systems Administrator, Animator, IT Support, Character Animator, Junior Animator, Production Secretary, Production Assistant

Growth of Visual Effects industry in India
Opportunities include Effects (FX)Supervisor, Visual Effects (VFX) Supervisor, Effects (FX) Artist/FX Animator,FX Artist, Fur/Feathers FX Artist,Compositing Supervisor  Editor, Compositor, Editing Assistant.
Growth of Gaming industry in India
Opportunities include 2D Animator / Motion Graphics,Senior Concept Artist, Senior Editor/AE Artist, 2D Flash Animator, Lead 3D Artist, 2D / 3D Designer, 2d artist for ios game, 2D Digital Artist – Game Dev. TGC India is an animation Institute in Delhi running multimedia, animation and visual effects degree courses.