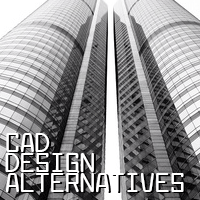 welcome
AutoCAD is rated the best computer aided design software on the market. It is also the most commonly used in industrial design and architecture. AutoCAD training teaches the basic concepts of AutoCAD in creating designs and models. However, AutoCAD is not the only CAD software and there is a slight probability that a CAD graduate might get employed into a computer-aided design company that makes use of AutoCAD as well as other CAD software. Once, AutoCAD is learned in AutoCAD training, the basic principles and concept of computer-aided design would be taught. These principles apply across all CAD software, the only difference with the software is the interface design and the tools. There are a few AutoCAD alternatives, which an AutoCAD trainee should know.
What is DOUBLE CAD XT?
This is a 2D CAD drafting and drawing software with very advanced features for drawing and creating models. This is also free software and is sometimes used by small-scale CAD companies for small-scale projects.
What is QCAD?
QCAD is also a fairly common AutoCAD alternative. It is a great technical drawing tool and is available for Linux, Windows, UNIX and Mac systems.  It is very easy to use and comes completely free.
What is Google SKETCHBOOK?
Sketch up is a 3D Modeling program used extensively in architectural, interior design, civil and mechanical engineering, film, and video game design. A freeware version, Sketch-up Make, and a paid version with additional functionality Sketch up Pro are available.  It also comes with a 3D warehouse and online repertoire for users to contribute models. It is a free software that has drawing layout functionality and surface rendering in variable styles with a plugin support from a plugin warehouse called extension warehouse. The most remarkable feature is the ability to place models on Google Earth due to it's building maker integration. It is not only a good AutoCAD alternative, but it also serves as a good alternative for Autodesk Maya and Autodesk 3Ds Max as it supports a wide range  of 3D model screenshots formats
What is Draftsight?
Draftsightis also a very popular AutoCAD alternative. Draftsight is a free professional Grade 2D CAD software that allows professionals and beginners to create and view DWG and DXFbbbg files. This is one of the few AutoCAD alternatives that are taught in CAD Institutes. It is easy to learn and it is also free.
What is FreeCAD?
FreeCAD is a free and open source 3D CAD/CAE parametric modeler that serves as a very good AutoCAD alternative. FreeCAD is designed specially to be used by mechanical engineers and product designers. It is, however, useful for other engineering specialties as well as architecture. It uses a Qt framework which is highly customizable and scriptable graphical user interface with 3D viewer based on Open Inverter. Free CAD is highly recommended as an alternative to AutoCAD.
Most of this software is actually good alternatives because they are free. However, with AutoCAD training courses, working on this software would be easy and one can easily adapt to any of them if the need arises, once a strong foundation has been laid in AutoCAD.
Though TGC India is the leading AutoCAD Training Institute in Delhi while delivering the course makes student acquainted about all the parallel and open source technologies in CAD design.
Contact Us