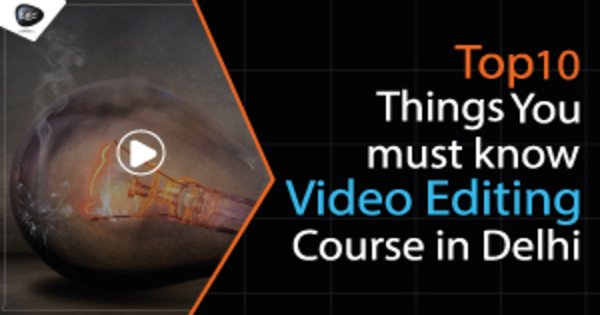 welcome
So you have completed 10+2 and looking for the right career field which is lucrative for you? Are you confused about which course to choose? You are not alone who is going through this confusion. There is no lack of career options these days thanks to the advancement of technology. Video editing is one of the most lucrative fields as it has become the hottest favorite among the ones who are looking to showcase your talent by creating innovative things.
Video editing courses in Delhi are categorized into beginner and advanced level. It promises to provide a flourishing career. Different students have different needs. Read on to know how to choose the right video editing institutes in Jaipur.
Types of Programs
It is one of the most important considerations. Some of the leading institutes offer a certification program in video editing. If you are an aspiring video editor, you can get broader training while going through the course.
Class Scheduling
If flexibility in time is your choice, you must enroll yourself in the weekend or evening classes. You can access these courses while continuing your certificate programs and some educational programs.
Reputation of Institute
Reputation is one thing that you will carry in your CV about the reputation. So, it is important to ensure that you have made the right choice. Schools that are known for filmmaking can offer quality education.
Placement
Placement is one of the first things in an institute that you need to reach out. If an institution has proven track record in placement in leading companies, you should enroll in it.
Curriculum
It is very important for you to check the curriculum to know the areas of specialization that they are going to offer. Consider the types of curriculum they have.
Facilities
Since this field is more technical, it is important to keep the tab on technology and facilities that are offered in the institute. Application and tools used in this course must be of advanced version. So, the course you prefer can make you proverbial with all such changes.
Training
Only theoretical knowledge is not enough. You should have hands-on training to gain experience. Practical training makes the course far better than the one which just teaches concepts.
Ask questions
Don't worry when it comes to asking for additional details. There are obviously many things to look for to make the right decision.
Consider visits
It is always better to visit the institute if you are seriously looking for it. This way, you can get a fair insight into the faculty, institute, and course. You may even ask the students to get genuine feedback on the institute.
Exposure
In order to ensure success in your field, be sure that you are prepared for the industry by choosing the right video editing course. For doing this, you have to choose the right institute for maximum exposure. They should cover seminars, internships, presentations, and others to increase exposure for students.
Verdict
Well, these are some of the factors to look for when it comes to choosing the right video editing course. TGC India is the leading institute for video editing in Delhi where you can sail through the whole process smoothly.
Related Articles::
Learn How to Do Video Editing without investing money?
5 Best Computer Hardware recommended for Video Editing in 2018
Contact Us